Bringing a new product to market can be incredibly challenging. Unforeseen design issues or manufacturing roadblocks can result in costly delays, time to market extensions, and even failure to launch. This is why electronic manufacturing services (EMS) companies are key to getting a product to market successfully — they serve as both design and manufacturing partners who will optimize a product's journey from development through to after-market support.
In this article, we'll elaborate on 4 crucial advantages of choosing an EMS company with design and manufacturing capabilities :
High quality manufacturing processes and methods
Services for every step of your project
A global footprint to support product expansion
Knowledge and experience to get new products to market seamlessly
Let's review these advantages in detail.
1. High quality manufacturing processes and methods
An experienced EMS company will possess the skills and technologies to ensure the highest levels of quality are maintained throughout the manufacturing process. Your EMS partner should be at the forefront of industry innovation and be fully capable of utilizing Industry 4.0 manufacturing processes, such as:
Automation: Automating EMS and printed circuit board assembly removes inefficiencies and human error from the manufacturing process to ensure production remains on schedule.
3D printing: This revolutionary method simplifies product prototyping and reduces manufacturing time by a significant margin.
Artificial intelligence: These systems combine big data and machine learning to optimize the overall manufacturing process.
2. Services for every step of your project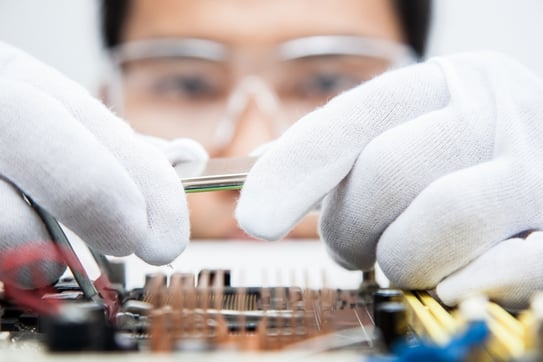 In addition to offering high-quality manufacturing services, a skilled EMS provider will provide product design and development services. When selecting your EMS partner, ensure that they provide the full spectrum of product support, from design and development through to post-production management.
Ideally, they should be active collaborators at each of these critical steps:
Development, co-design, samples and prototyping.
Manufacturing and New Product Introduction.
Supply chain management, product lifecycle management, and post-production support.
As no two product development lifecycles are the same, an experienced EMS company will be flexible enough to respond to any product development or manufacturing hiccups. And by offering design support capabilities at the start of product development, an EMS company can help you identify and fix any potential problems that could negatively affect your manufacturing process.
For more information on the services an experienced, qualified EMS company offers, read our essential guide to improving product value with an EMS provider.
3. A global footprint to support product expansion
If you are looking to expand your product beyond local markets, an EMS company with an international presence will have the global resources to help you do so. That said, an EMS company needs more than a global footprint to ensure your product's full potential is realized worldwide.
For the highest levels of quality to be maintained, processes such as IT systems and project management need to be standardized across locations to facilitate the frictionless transfer of production from one manufacturing branch to another.
4. Knowledge and experience to get new products to market seamlessly
When researching EMS companies, prioritize market knowledge. As an EMS partner will form a crucial element in your production line, they need to be extremely well-versed in global electronics trends and markets to guard against potential issues like faulty parts or questionable suppliers. A knowledgeable EMS company will be able choose the right solutions autonomously, ensuring that production timelines and manufacturing quality are rigorously adhered to.
A partner from development through to success
With a deep understanding of market trends and technologies, an EMS company can help develop your idea into a high-quality, cost-effective product. Asteelflash has seventeen fully outfitted plants on four continents. With these harmonized global resources and our utilization of state of the art technology, we'll ensure that your product is introduced to worldwide markets on schedule and within budget.
Contact the Asteelflash team for more information on our full-service capabilities and multi-market expertise.