For this third edition of our campaign "A Day in the Life of…", we have had the pleasure to interview

Brigitte Hartung, Autonomous Production Team Pin Through Hole Supervisor (APT PTH Supervisor).
Working at Asteelflash for the last 10 years, she is based in our Bad Hersfeld facility in Germany.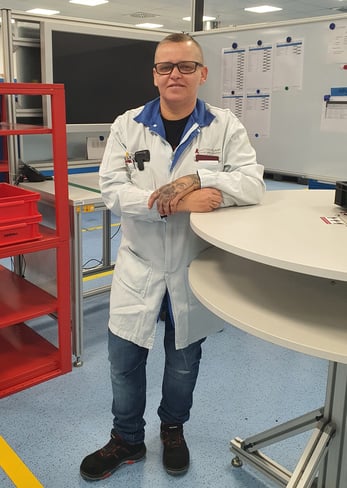 Brigitte is really passionate about her job at Asteelflash, calling it "really close to her heart". When she leaves the premises, she likes to live a fast and adventurous life. In her free time, you will most likely find her in the forest on her quad bike to discover what nature has to offer and get the thrill of speed.
Brigitte has been part of Asteelflash for more than a decade and has seen many changes in the company over the years. This has allowed her to evolve greatly at the same time. A few years after she joined the company, Bad Hersfeld site had to hire more than 100 employees to support a new major customer. All these people needed to be trained and that's when Brigitte became an APT PTH supervisor. Now responsible for a team of 8 to 12 people, her level of responsibility has increased a lot.
What is Pin Through-Hole?
Pin Through-Hole mounting is, to keep it simple, a process by which component leads are placed into drilled holes on a bare PCB. There are a few advantages offered by this process, namely, reliability.
Whereas SMT components are secured only by solder on the surface of the board Through-hole components are stronger and allow better connections between layers. Through-hole technology is also really useful in prototyping that requires manual adjustments.
A typical day as an APT Supervisor PTH
The facility of Bad Hersfeld is a 24/7 working factory. Brigitte's team works the "early shifts" starting at 5 am. The first thing she does is to ask the previous shift supervisor about what happened during the night. That information is thoroughly tracked and monitored in the shift book.
A bit later in the day, she has to attend the production meeting that gathers Production Managers, Planners, and some of the Team Leaders. The objective of these meetings is to define the priority of each problem and to find efficient solutions.
Brigitte's role is also to inform the customers about any delays mainly due to the COVID crisis or the component shortages. It is really important to be transparent with them and to show that despite all the recent obstacles, we do our best to meet their targets and be as reliable as possible.
Finally, at the end of her day, it is mandatory for her and her team to prepare the workplace for the next shift and to do a last quality check on the products they have been working on during the day.
Other involvement within Asteelflash
On top of her daily work, Brigitte has another important role in the facility: she is part of the work council that represents all Bad Hersfeld employees. There are 9 representatives whose role is to be the point of contact between the management board and the employees. Brigitte always feels very involved in her mission to try to find the best compromise for both economic and social topics.