A few days ago we had the pleasure of interviewing

Driss El Baggar, a Process Engineer at Asteelflash

since 2018 based at our Fremont, California Site in the USA. Today, it is his story that we are sharing with you.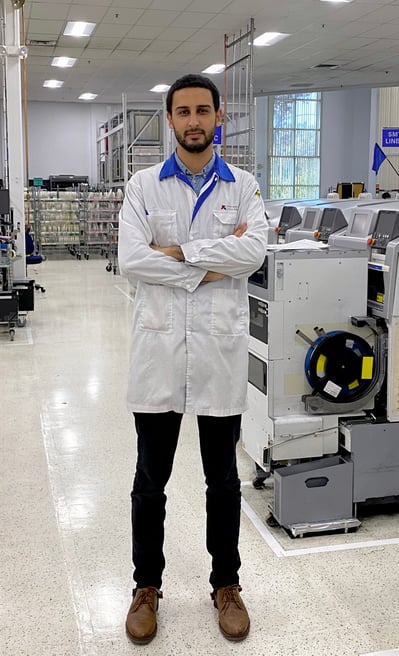 Hello Driss! Thank you for participating in this project!
Hello!
Could you tell us a bit about yourself first?
Yes, for sure! My name is Driss El Baggar. I am 29 years old and I am a Process Engineer at Asteelflash. In my daily life, I am passionate about sports, especially soccer, and basketball. Also, I would like to add that I am a huge fan of new technologies!
How did you get this passion for new technologies?
This passion began at a young age. I wanted to understand how things work and that's what made me want to become an electronics engineer.
Following your passion, was working in the EMS industry your first choice, or did you explore other options as well?
As you know I have been part of Asteelflash for more than 2 years now and this is my first experience in the EMS industry. Before that, I used to work in the OEM sector at SAFRAN ELECTRONICS for 5 years.
Could you explain to us your role and your mission at Asteelflash?
My main mission is to define the process that a product will follow and I supervise them to ensure efficiency and quality. I also provide technical support to our production team as well as our customers on all the problems that may be encountered (Design problems for example). My role is to continuously ensure the cost and quality efficiency of these processes.
"My main mission is to define the process that a product will follow
and I supervise them to ensure efficiency and quality."
For those who may not know, could you define what is a process of a product?
A process at Asteelflash is all the stages through which an electronic board goes through. There are different processes: the SMT process, pin through-hole components process, conformal coating, or even the board washing process. These processes must be defined and supervised according to the specificity of the product.
So, what does a typical day in the life of Driss look like at Asteelflash?
Although each day is very different from another. It always starts with a Production Meeting (review of the day's schedule) to discuss what will be on the lines on that day. Knowing the products and their complexity is essential to manage the problems that have been raised the day before and identify those that could potentially appear.
I also work hand in hand with the clients. We review the design and then give them feedback on the product manufacturability. We call it a DFM (Design For Manufacturability). We often receive designs that are not optimized and that will generate additional costs and production time. It is therefore a crucial step for us and for the customer, in order to avoid that.
At the end of the day, we have QRQC meetings. These meetings consist of bringing together the production and the engineering teams to discuss problems encountered on the production floor on that day. We define problems and then contain them to develop quick corrective actions.
"I also work hand in hand with the clients"
What motivates you in your job and tasks?
The electronics industry is constantly evolving. I discover new products and new technologies every day by working on a lot of different industries – it is very motivating.
And what can you describe as a challenge in your work?
The challenges in my work are often linked to deadlines. We are in an industry where the "Time to Market" is critical and we usually work with very challenging deadlines - it is essential to respect them. There is no other solution than delivering on time.
A little anecdote you would like to share?
A while ago we worked on a project for Teenage Engineering. This client asked us to produce 10 mixers for a very famous American celebrity. The deadline was 2-3 days, one of the most challenging deadlines we've ever had! We had to get material, design, production, and all, done in just one weekend! The whole Quick Turn team did everything they had and we managed to deliver on time. It was a very challenging but good experience!
Thank you again Driss for this wonderful discussion and we wish you all the best!
Thank you!