This quarter, we had the pleasure to interview
Marwa Charfedi, Program Manager in our La Soukra (Tunisia) facility

, as part of the "A Day in the Life of" campaign.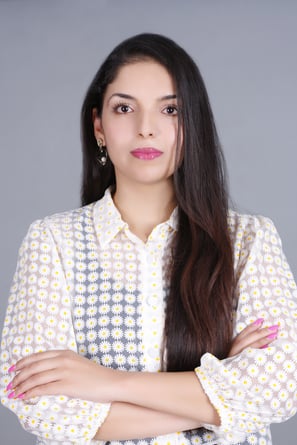 Marwa joined Asteelflash 7 years ago and has been working in the Industrial Business Unit for the last three years. She started as a Customer Quality Engineer, followed by a Business Unit Quality Manager, and then an Activity Quality Manager. Finally, in 2019, she started working as a Program Manager.
Marwa is what we can consider a polyglot, because, from her passion to travel was born the pleasure to learn multiple languages. This is a real asset as it allows her to communicate with the locals of the countries she travels to. Today, Marwa speaks 5 different languages, Arabic, German, French, English, and Italian.
Thanks to her job as a Program Manager, Marwa is in daily contact with her clients in order to support them throughout their production journey with Asteelflash. This contact is a real motivator for her. It is a job that brings its share of surprises because no two days are alike. In fact, each customer is unique and has specific needs to meet.
It is with the support of her Customer Focus Team of La Soukra that Marwa meets the needs of her customers in terms of quantity, delivery, quality, and price; a real overview of the different needs of the customer portfolio. This team, which she considers to be her second family, motivates her, even more, each day to be full of energy and to face any new challenges that may come her way.
"Working as a team brings real strength to productivity."

Based on these satisfaction criteria, Program Manager is a position at the heart of our organization, putting her in relation with sales, finance, quality team... This is essential to follow all the details concerning the customers' business in order to give them the best information at all times.
Moreover, in the current context (COVID-19, Components crisis, or the Ukraine War…), it is essential to work efficiently with the customers to solve a great number of problems and keep the deliveries on time. Thus each day is a new challenge.
Finding the right balance at all times is essential to succeed. It is necessary to maintain customer satisfaction regarding the four criteria mentioned above, but it is also necessary to ensure the profitability of the project. Sometimes one of the two entities must make a compromise while at the same time, finding a way to achieve its own goals. This balance to be maintained can be a real challenge.