Consistent quality is a prime requirement for purchasers of electronic subassemblies and, as one of the world's leading EMS partners, Asteelflash and USI know that consistent quality doesn't just happen. That's why the company has devised and qualified a comprehensive set of processes that cover every stage of its manufacturing operations.

Optimising before manufacturing
These processes are set in motion as soon as a design is received from a customer. The first step is to determine whether it is optimised for manufacturing and testing. In many cases, Asteelflash-USI can draw on its manufacturing expertise to suggest small changes that yield big savings. The next step is to look at the processes needed to manufacture the product efficiently and cost-effectively, taking fully into account the results of failure mode and effects analysis (FMEA) and process failure mode effects analysis (PFMEA).
Since EMS companies are called upon to supply an almost limitless variety of products, there is no one-size-fits-all solution for efficient manufacturing. Thanks to its extensive facilities and the wide experience of its engineers, however, Asteelflash-USI can accommodate almost any requirement, usual or unusual, at its state-of-the-art facility in Poland.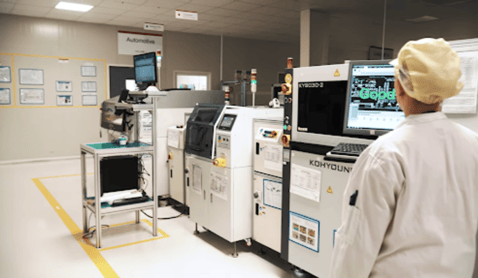 SMT processes
Process steps for a typical product include unpacking, inspecting, and labelling incoming components, before proceeding to the surface mount technology (SMT) stages at the heart of the manufacturing process. These will involve solder deposition followed by solder inspection, component mounting and reflow. Further inspection is performed at this stage, followed by in-circuit testing. Depending on the customer's requirements, the circuit boards may then be packed and shipped, or they may be mounted in enclosures, along with additional wiring and components, prior to final inspection, testing and despatch.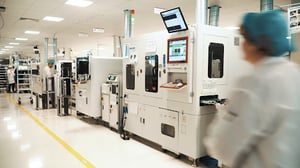 Asteelflash-USI in Poland works closely with its customers to develop effective test procedures that will ensure total confidence in the performance of products leaving the factory. The company can also accept test routines developed by the customer for use on DOS, Windows and Linux platforms.
Where needed, Asteelflash-USI in Poland can incorporate many additional processes in the manufacturing procedure including, for example, manual addition of large components that cannot be handled by SMT equipment and x-ray inspection for pre-production prototypes and particularly critical assemblies. The company prides itself on its open approach and is always ready to devise novel manufacturing solutions for customers with special needs.
Continuous improvement
All processes at the Asteelflash-USI plant in Poland are routinely monitored using appropriate statistical techniques to ensure that they continue to operate optimally, thereby guaranteeing the consistent quality of the end product combined with high productivity. Furthermore, the company invests heavily in training for its staff, to ensure that they are always able to get the best from the equipment they work with.
Many of the world's leading suppliers of automobiles, medical equipment and building automation systems rely on electronic subassemblies manufactured by Asteelflash-USI. To satisfy these demanding customers, the company has developed flexible yet well proven manufacturing systems and processes. These same processes could be providing dependable and cost-effective solutions for your EMS requirements. To find out more book a meeting with one of our experts or for further information, check our guide on Cost-efficient projects down below.