Global supply chains is facing a variety of risks as companies attempt to transition into a new COVID-19 environment. Follow our updates.
UPDATE JANUART 15th 2021:
AIR FREIGHT MARKET:

Airfreight rates are expected to remain elevated in 2021 as the demand outlook remains uncertain and belly capacity is slowly re-introduced into the market.

On the demand front, a faster than expected rise in e-commerce demand, Covid-19 vaccine supply chains and PPE demand will all drive the airfreight market over the coming year.

Last year, airfreight rates on major east-west trade lanes ended at a very high level.
Data from TAC Index show that - in December - average prices from Hong Kong to North America were up 107.2% year on year.
From Hong Kong to Europe average rates increased 77.5% compared with a year earlier. And from Europe to North America there was a 184.1% increase.


SEA FREIGHT MARKET:

Record Asia-Europe ocean freight rates rise further.
The squeeze on space and record ocean freight rates on the Asia-Europe trade lane are showing no sign of abating in the run-up to Chinese New Year (CNY), with further rate hikes now expected later this month and the real prices paid by customers soaring to unprecedented levels.
Spot rates from Asia to Europe spiked again last week on equipment shortages, port delays and lack of capacity ahead of CNY factory closures in Asia from mid-February.
Shanghai-Rotterdam rates jumped 34% last week, up 282% compared to a year earlier.
Spot freight rates on the Shanghai-Genoa lanes meanwhile gained 18% last week, up 212% compared to a year earlier.

Shippers warned to prepare for bunker surcharge increase
Shippers were spared the worst impacts of the introduction of new low-sulphur fuel regulations last year due to a collapse in the price of oil following the outbreak of the coronavirus pandemic.
But as economic recovery continues and demand for oil returns alongside cuts by major oil producing countries such as Saudi Arabia, bunker prices are on the rise again.
After a dramatic fall in March and April that brought down the price of both heavy fuel oil and very low sulphur fuel oil, bunker prices increased and stabilized at a level of around $290 per ton for IFO380 and around $340 per ton for VLSFO.


RAIL FREIGHT MARKET:

In January, there is close to zero new departure plan of shipments from westbound China to Europe due to a shortage of container equipment. Demand for space on westbound service is extremely high. Eastbound service from Europe to China is running with a reduced frequency which caused very tight capacity in the market as well.
This situation will not change before the Chinese New Year.


CURRENT SITUATIONS IN THE USA

US forwarders struggle with 'Insane' pre-Chinese New Year ocean buildup
Transpacific head haul rates and demand overheat ahead of next month's Chinese New Year holidays, with carriers failing to honor contracts and guaranteed slots only available at prices far higher than listed spot rates.
Transpacific ocean freight markets are showing no sign of cooling down as supply chain bottlenecks, equipment shortages, and a lack of capacity keep ocean logistics capacity tight and prices high.

Below is a picture of Long Beach port showing a long line of vessels waiting to off load containers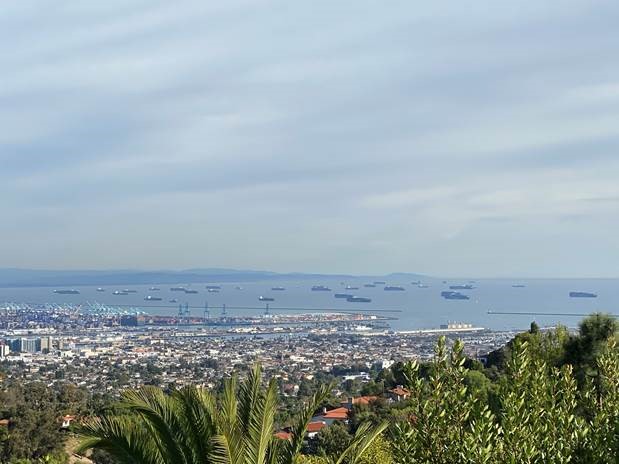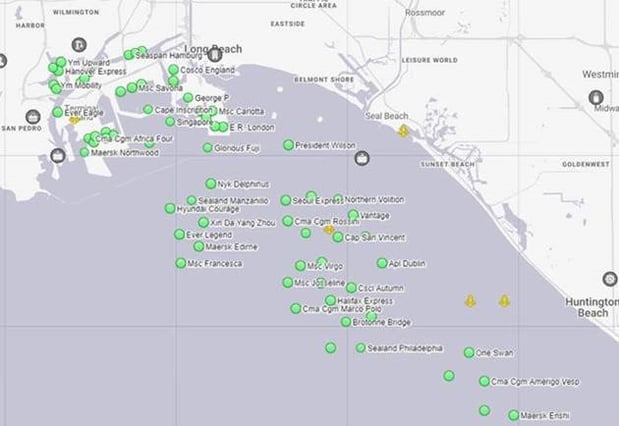 TURKEY:
A curfew during weekday evenings and during the weekend still continue.
As far as the supply chain is concerned, the most important issues are equipment & vessel space.
This is also affecting freight rates.
Rates are increasing and bookings need to be placed 2-3 weeks in advance at least.

*****************************************************************************
UPDATE JANUARY 9TH 2021:
SEA FREIGHT MARKET:
A look back at 2020, the year that container supply chains collapsed: he intervention of Chinese regulators in September dampened the rise in transpacific rates – albeit that spot rates to the US west coast remain some 180% higher than a year ago – but not elsewhere; for example, rates to Europe are currently 260% higher and to the South American east coast 220% higher than a year ago.
The unintended consequences of piling on more capacity to meet the export boom from Asia was to throw carriers' equipment balances totally out of kilter as containers got stuck on ships awaiting berths, on quays awaiting transport, or log-jammed at other intermodal pinch points.

But container spot rates as recorded by the Shanghai Containerized Freight Index (SCFI) are not representative of the actual price paid by embattled shippers who, desperate to secure space and equipment, face a myriad of surcharges and premium fees.

Some freight forwarders were obliged to charter their own ships from China to Denmark to cover their commitments to customers.

This unprecedented action by the forwarders must be seen as a warning to carriers that whatever lies ahead in 2021, container lines need to return to the days of offering an acceptable level of service at fair rate levels or risk further proactive measures by their customers.



Situation in the USA:
The Marine Exchange of Southern California reported 24 container ships at anchor in San Pedro Bay on Monday.
Five more were due to arrive and four were due to leave anchorage for berths at the ports of Los Angeles or Long Beach.
The Marine Exchange reported that regular anchorages are full and several of the contingency anchorages are also occupied.
A map from Marine Traffic using ship positioning data reveals the extent of the container-ship pileup in San Pedro Bay.
The situation has not improved over recent weeks — if anything, it appears to have worsened.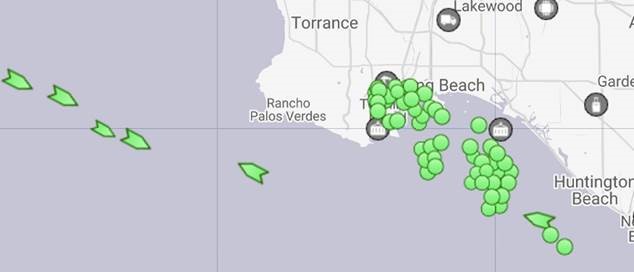 Persistent port and rail ramp congestion, container chassis shortages, and excessive detention and demurrage fees from carriers, as well as upheaval among air cargo service providers, are causing significant harm to your import and export supply chains.

U.S. customs brokers, freight forwarders, and non-vessel-operating common carriers (NVOCCs) of all sizes are facing multi-week delays and higher costs of routing shipments through the nation's congested seaports, airports, and rail ramps.

The frustration of these delays is compounded by the imposition of excessive detention and demurrage fees by ocean carriers.
In the worst cases, containers are being reported lost by the carriers and terminals.
The same types of delays to commerce are experienced at the nation's airports.
Truckers hired to retrieve or deliver freight encounter inefficiencies at ports and airports that severely disrupt and add significant cost to what should be an efficient activity.
In many areas, there is a severe shortage of available truckers to move your cargo domestically.

TURKEY:
Flight frequencies have been decreased and airfreight rates are at a high level. On the general sea freight export and import side, demand has not increased but as both equipment & vessel space supplies are very low, it's difficult to find available sailings in time to meet everyone's schedules
****************************************************************************
UPDATE DECEMBER 28TH 2020:
Tight capacity has been a characteristic of both the air and sea freight forwarding markets in 2020.
Container shipping alliances were able to work together and cut capacity during the pandemic, keeping rates at high levels.
This trend, although likely not to the same extent, could continue in the years ahead, pushing some shippers to consider other modal options, such as rail or sea-air.


AIR FREIGHT MARKET
From Hong Kong to Europe, rates in November increased by 43.1% on a month earlier and initial figures seem to indicate they will continue to grow in December and January.

An increase in pricing at this time of year isn't too much of a surprise as the peak season starts and various shopping promotions take place.
However, prices remain far above last year's levels as a result of the lack of overall air cargo capacity due to the grounding of many passenger services.
Average rates from Hong Kong to North America are up 91.9% on a year ago, while to Europe they are 65% up.


OCEAN FREIGHT MARKET
Asia-Europe ocean freight spot rates have risen to new record levels, reflecting high demand, capacity bottlenecks and a shortage of empty containers and other equipment.
Figures from the Shanghai Containerized Freight Index (SCFI) show average rates from Shanghai to northern Europe rising by almost a quarter in just a one week to a new record, up 24% compared with the previous week – when prices had already seen a rise of more than 13% on the previous week's levels.
That takes Asia-Europe rates to more than double their level this time last month. And rate rises on the Asia-Mediterranean trade were even larger, a rise of almost 30% (28.9%) in the week.

Rate rises from China overall were more moderate, although average spot prices to Europe from ten hub ports in China, as measured by the China Containerized Freight Index (CCFI), rose by more than 15%, week on week. Meanwhile, average prices from China to the US remained broadly stable for another week, as they have for several weeks.



Situation in the USA
The United States have seen a surge of imports from Asia coming into the ports on the West Coast.
The increase in volumes, along with labor and chassis shortages have contributed to ongoing, unprecedented congestion and backlogs.

The congestion is now being felt at air and sea ports across the U.S., due to compounding factors.
While we are currently in peak season, there was also a backlog of freight from around the world due to the coronavirus situation.
Along with the extra freight coming in, personnel shortages are occurring more frequently due to the possibility of virus exposure and social distancing measures are in place at the terminals and trans-loading facilities.
All of these factors have combined to create days- and sometimes weeks-long terminal dwell times.
Airport Situation
At Chicago's O'Hare, New York's JFK, New Jersey's Newark, as well as Los Angeles' LAX and other major airports around the country, some cargo retrievals are delayed over a week due to the increased quantities of cargo flying into the airports.
Ocean Port Situation
The Ports of Los Angeles/Long Beach as well as the Port of New Jersey are suffering the worst delays in the United States currently as the Trans-Pacific Eastbound lane is seeing record levels of demand.

Covid 19 vaccine impact on Supply Chains and WW transportation:
As pharmaceutical companies around the world race to develop and distribute COVID-19 vaccines, logistics providers are preparing to build the supply chain needed to deliver these drugs to billions of people as rapidly as possible.

Once a vaccine is approved, manufactured at scale, and ready for distribution, the high-stakes supply chain will require additional logistics capacity and specialized equipment, as well as cold-storage facilities and processing capabilities by ground handlers. The timing of the start of the distribution efforts is particularly critical as shipment capacity – notably for air freight, which is likely to serve as the main mode of transportation for the vaccines – remains 20-25 percent lower than in the same period of 2019 due to unavailable belly cargo on passenger flights. As of November 2020, air cargo rates remained up to 60 percent higher year-on-year on some major trade lanes, with the year-end holiday season likely to push up rates even further in the coming weeks.
Particular concerns revolve around the impact the global distribution efforts could have on air cargo capacity and rate levels on the three major air cargo trade lanes between Asia, Europe, and North America as well as on secondary trade lanes.

This report lays out a detailed overview of the various challenges as they relate to logistics capacity, airport cargo handling, and congestion.


COVID-19 VACCINE
Logistic Outlook