The Asteelflash-USI plant in Poland is already one of the most advanced EMS facilities in Europe and is benefiting from major investment that will more than double its production area.

This successful and dynamic plant, which has an enviable reputation for product quality and innovation, numbers among its customers' major automotive manufacturers as well as leading suppliers of medical equipment and building technology products. Asteelflash-USI Poland could be the right choice for meeting your EMS needs, so take a few minutes to find out more.
Asteelflash-USI Poland in numbers
USI was established in Taiwan in 1976 and, in 2020, the year it acquired Asteelflash, it reported global revenue of 7 billion US dollars (including Asteelflash revenue from December 2020 only). The Polish operation site was acquired by USI in 2019. It currently has more than 360 employees. At the present time, all major operations are accommodated in a single building of just over 8,000 square meters, but the second building of a little over 10,000 square meters will be completed in 2022.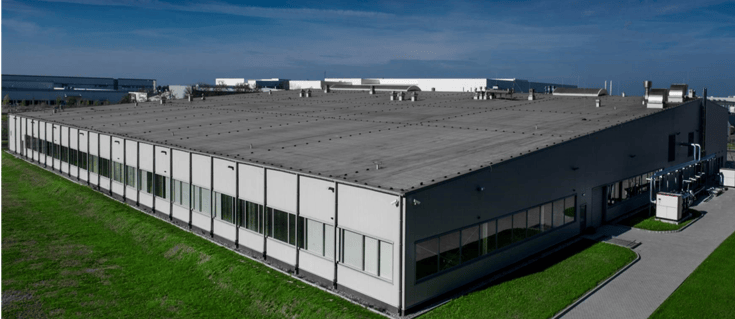 Focused production lines
Major products currently manufactured at Asteelflash-USI Poland include Telematics infotainment modules for automobiles, for which the plant has eight dedicated production lines, and electric vehicle (EV) integrated charger battery (ICB) boards, for which it has one dedicated line. In addition, it has recently started to produce equipment for building technology applications and for EV power modules.
Asteelflash-USI Poland has extensive SMT process capability with nine high-speed lines and the ability to handle both flexible and rigid PCB assemblies. The SMT assembly machines are complemented by nine sets of solder reflow equipment, with facilities for in-line solder paste inspection (SPI), in-line automated optical inspection (AOI), and x-ray inspection.
The site also has ASM process capabilities that include six sets of lead-free wave soldering equipment, five of which can handle PCBs up to 610 mm in width, five sets of in-line routers, and three sets of in-line silicon dispensers. These individual machines are complemented by an automatic assembly line that offers laser marking, automatic crimping, breather, and cover assembly, glue and sealant application, and PCBA assembly.
Clean-room environments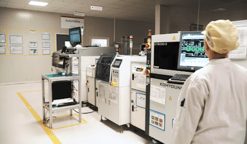 Much of the Asteelflash-USI plant in Poland operates under clean-room conditions that conform with ISO Class 8. The plant also features sophisticated humidity and temperature management systems throughout, as well as electrostatic discharge (ESD) management systems that conform with PBN-EN 61340. For product testing, the plant offers a fully customizable testing program, with capabilities for running FCT test programs under DOS, Windows, and Linux.
While it is hopefully clear that Asteelflash-USI in Poland has invested in equipment to handle almost any customer requirement efficiently and cost-effectively, it's important to note that it also invests in its employees, ensuring that they have all of the skills needed to get the best from the equipment and to fully satisfy the needs of the company's customers. To find out more about Asteelflash-USI Poland and how you could benefit from the services it offers book a meeting with one of our experts or for further information, check our guide on Cost-efficient projects down below.