The Project
Thanks to Asteelflash's customer service, consistently high product quality and competitive pricing, the company's plant in Bad Hersfeld, Germany, is not only seeing growth in orders from existing customers, it is also attracting a high level of new business. While this is excellent news, engineers at the plant were becoming increasingly aware of a production bottleneck: the existing test facility had neither the flexibility nor the capacity to cope with new products and the anticipated increase in production volumes. A 300,000 € investment in a new modular test facility has provided a complete solution which is delivering significant benefits for Asteelflash customers.
The Challenge
The test facility at Asteelflash's Bad Hersfeld plant already had robots, but they had been in use for more than a decade and lacked the flexibility, reliability and speed associated with more modern equipment. With this in mind, the plant's management team decided that it was time to invest in completely new, more modern equipment. However, the equipment had to meet many requirements, including high automation, high production capacity and an absolute minimum of manual intervention.
Indeed, labor costs in Europe are high, and while many of Asteelflash's European customers prefer to work with a relatively local supplier for printed circuit board assemblies (PCBAs), they also need very competitive prices to maintain their own market position, and these prices can only be achieved with high levels of automation.
Asteelflash also needed its new test facility to be flexible, so that it could quickly and easily switch from one type of product to another, and be easily reprogrammed to accommodate new products the company's customers might introduce. Finally, it had to be expandable to accommodate any future increases in capacity that might be needed, and also to accommodate potentially higher testing requirements associated with future products.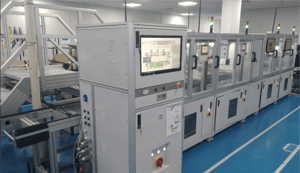 The Solution
To satisfy all of these requirements, Asteelflash engineers developed a new test system based on a modern cobot – a co-operative robot that can be used close to human workers without the need for extensive guarding. They adopted a modular design so that additional modules could be added should this become necessary to meet future needs.
As currently implemented, the new test facility receives boards from the factory production area in trays. The cobot takes the boards from the trays and places them on a workpiece carrier, after which they are transported by a conveyor to the facility's two multifunction test cells, each of which has been designed to allow two PCBAs to be tested simultaneously as an aid to maximising throughput. One of the test cells is designated for initial in-circuit testing, while the other supports comprehensive functional testing. PCBAs that pass all of the tests successfully are transported back to the starting position, where the cobot replaces them in the trays. PCBAs that fail one or more tests are diverted to a separate conveyor which transports them to the rework area.
In normal operation, the test facility works automatically without the need for manual intervention. If, however, its normal functioning is interrupted for any reason, the equipment is programmed to support a timesaving warm restart without having to be cleared of PCBAs and completely reset.
The modern cobot used in the new test facility is readily programmable to handle different types of PCBA, as are the multifunction test cells. In addition, the modular design of the equipment means that more test cells can be added without the need to completely rebuild the machine. This would, for example, allow the efficient testing of very complex products with long test cycle times, and therefore provides a high degree of futureproofing.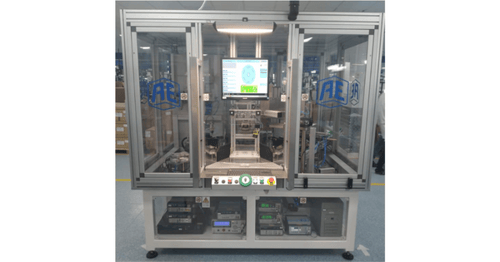 Benefits
The new test facility at Asteelflash's Bad Hersfeld plant is already proving its worth on existing products, where it is reducing the time required to test a typical PCBA by more than 30%. It is also exceptionally reliable in operation, which means that disruption due to unplanned downtime has, for all practical purposes, been eliminated. In addition, the new test equipment provides comprehensive data about all of the faults it detects in the PCBAs, and Asteelflash is able to use this information to fine tune its production processes to maximise first-pass production yield. A future possibility, although not yet implemented, is that Asteelflash customers may be able to directly access test data for their products via a secure internet connection.
For Asteelflash's customers, significant benefits include the additionally flexibility that the company can now offer, as it has the ability to set up even complex test procedures quickly and easily, thanks to the convenient programming options associated with the new test facility. The company has also increased its production capacity, allowing it to handle medium-volume orders – up to around 200,000 items per year – with exceptional efficiency. Further, because of the high level of automation featured by the new test facility, Asteelflash continues to be able to offer highly competitive prices for items manufactured at its Bad Hersfeld plant.
These benefits, which are directly related to the new test facility, complement and enhance the advantages enjoyed by all Asteelflash customers. These include easy access to the company's unparalleled experience in the electronics industry, which allows it to offer valuable advice on product optimization; access to its global network of component suppliers, which can help offset problems caused by current device shortages; and the company's positive business approach, which is based on building long-lasting, mutually beneficial partnerships with customers rather than just a customer-supplier relationship.
With its new test facility at its Bad Hersfeld plant, Asteelflash has once again demonstrated that it listens to its customers' requirements and is willing to make substantial investments to ensure that their needs and expectations are fully met. To learn more about how you can benefit from Asteelflash's investments and expertise, ......