Situation overview on the Coronavirus effects on the electronics industry
Flights and vessels schedules change every day and rates fluctuate every hour according to supply and demand.
Demand being way higher than supply (capacities in planes and boats) unprecedented massive increase in rates is taking place.
Situation as of June, 4th, 2020
AIR FREIGHT MARKET OUTLOOK
Air cargo recorded its steepest ever decline in air cargo volumes in April, but a greater reduction in capacity resulted in load factors jumping by the highest amount on record.
The latest figures from IATA highlight the volatility experienced in the air cargo market in recent months, with demand in cargo ton km (CTK) terms dropping by 27.7% year on year in April, while capacity for was down by the greater amount of 42% in terms of available CTK (ACTK).
As per IATA, "there is a severe capacity crunch in air cargo. The result is damaging global supply chains with longer shipping times and higher costs."
Airlines are deploying as much capacity as possible, including special charter operations and the temporary use of passenger cabins for cargo.
The coronavirus has changed airfreight, with the majority of passenger aircraft parked, some never to return to airline schedules, and freighter capacity at a premium as global demand for medical supplies surged.
Airfreight rates out of Shanghai continued on a downward trajectory last week as air cargo capacity on key routes remained steady.
The latest figures from TAC Index show that average airfreight rates between Shanghai and North America last week dropped compared to a week earlier.
This is the third week in a row that prices on the trade have fallen as congestion at the airport has eased.
Meanwhile, on services from Shanghai to Europe, average prices also declined last week – although to a lesser extent than to North America.
However, prices are still far above last year's levels.
Besides, average prices from Hong Kong to North America continued to fluctuate.
From Hong Kong to Europe prices actually increased by 1.2% compared with a week earlier.
The performance in rates to Europe reflects capacity on the trade, which is 8% down on a year ago.
While the capacity shortage ⁠— caused by the coronavirus-related loss of passenger services ⁠— is easing on the transpacific and Asia-Europe rates, space remains tight on many other lanes.
Transatlantic capacity, for example, is 60% down on a year ago westbound and 52% behind eastbound. South America-Europe is around 80% down in both directions, while South America to North America is 12% behind last year.
Overall cargo capacity is 26% down on a year ago.
SEA FREIGHT MARKET OUTLOOK
The easing of lockdowns, especially across much of Europe, has helped demand for container freight gradually get back on its feet to take the first tentative steps toward recovery.
After a few months in which demand tumbled around the world, the re-opening of some shops, with more expected in the coming weeks, has resulted in a sudden jump in demand, especially as there are large numbers of vessels out of the market following the void sailing measures by carriers.
However, there are some concerns emerging on the Asia-Europe trade lane over a gap starting to grow in prices offered for container freight.
Some carriers have reduced rates in an attempt to boost cargo numbers, and this has created a dilemma. The lower rates have attracted more cargo, which has left some vessels at over 100% capacity with some cargo rolled.
This has put already fragile supply chains under further pressure.
On top of this, looking beyond the short-term boost from easing of lockdown restrictions, are the tremors of an economic slump that all but the most bullish analysts are bracing for.
This could have a significant impact on container freight should consumer demand change.
Situation as of May, 25th, 2020
AIR FREIGHT MARKET OUTLOOK
While global passenger traffic has almost completely evaporated, global air cargo volumes declined by only 47% by the end of March 2020 vs. March 2019, and there has been a rebound since with volumes down only 32% by the end of April 2020.
This rebound suggests that much of the decline was caused by capacity constraints (which have started being relieved as passenger aircraft have been pressed into service carrying cargo).
Even with passenger aircraft being used temporarily as freighters, there still will be a severe cargo capacity shortage and air freight rates are likely to remain high for some time to come. "Passenger freighters" are inefficient, cannot accommodate palletized cargo, and are a temporary solution at best.
The global airline industry is expected to shrink in the long term following the end of the Covid-19 crisis, as the economic crisis continues to exact a toll on passenger demand.
As passenger aircrafts are permanently parked and smaller-gauge, less cargo-friendly aircraft such as the A321LR replace passenger wide-bodies on some intercontinental routes, air cargo capacity will remain tight worldwide.
A number of the retired passenger wide-bodies may ultimately be converted into full freighters with main deck cargo doors and reinforced floors, but it will be a long time before a new cargo demand/capacity equilibrium is reached and freight rates decline to the levels they were at before the crisis.
CHANGES TO COME FOR GOODS MADE IN AND COMING FROM HONG KONG TO THE USA
A change is coming to how goods from Hong Kong will be treated for customs purposes upon importation into the USA.
The US President made comments today during a news conference indicating a change to the status of Hong Kong.
Currently, Hong Kong is recognized by CBP (Customs and Border Protection) as a separate customs territory.
The White House has indicated that, due to recent actions by China, the US might no longer recognize Hong Kong as a separate customs territory and , instead, will consider Hong Kong as part of the customs territory of China.
The implications of this designation change and implementation timelines are not yet known or fully appreciated.
It does, however, raise the possibility of trade-remedy exposure, country of origin marking changes, documentation changes—among other impacts.
Situation as of May, 15th, 2020
Amid supply chain professionals lately, a common misconception in the wake of COVID-19 centers on the soaring price of airfreight. The reason? Some assume that since people are stuck in place and not flying anywhere, all air prices—passenger or otherwise—should be down. After all, demand is low, right? Wrong.
Demand might be low for passengers, but it most certainly isn't for desperately needed personal protective equipment (PPE) and medical supplies.
More than 50% of airfreight flies in the cargo holds of passenger planes.
For Transatlantic lanes, that number rises to about 80%.
But with many passenger fleets now grounded, the airfreight capacity has been snipped. In fact, according to the Seabury global capacity report, global air cargo capacity has dropped 35% from last year.
And double-digit air cargo capacity has sloped among trade lanes worldwide.
Therein lies the problem: The intensely limited capacity has caused airfreight prices to skyrocket, particularly from mainland China.
What we see in the air freight market is unprecedented.
Pricing is breaking all records and falls well outside the past five years' range of prices.
But nowhere is the exponential increase more dramatic than in the Transpacific trade lane.
China to North America spot airfreight pricing is increasing every week.
Looking at the China to Europe airfreight rates, the news is not much better, having seemingly tripled in the past month. On top of that, some ground-handlers in North America and the EU are imposing COVID-19 emergency support surcharges.
Adding to the fact that most passenger fleets are now grounded and PPE is dominating existing capacity, is the stark reality that airplanes can only be flown so many times before they need to be taken out of service for maintenance.
While the number of cargo carrying flights out of China appears to be increasing, globally capacity is still 25% down on a year ago.
Europe-South America is down by more than 80% in both directions, intra-Asia is 23% down, the transatlantic is 54% down eastbound and 61% behind in the westbound direction, Africa to Europe is 52% down while southbound the figure is 58% and South America-North America is 11% down northbound and 6% southbound.
Based on the Seabury report, global air cargo capacity is 25% lower compared to last year.
The unprecedented limited belly capacity in passenger planes has led to a dramatic reduction in air freight space availability, fueling a very lopsided competition of merchants trying to ship their product versus the urgently needed orders of large quantities of PPE, which require fulfillment by air.
Since the demand for PPE will be strong in the coming months, the elevated prices for airfreight are not expected to drop until COVID-19 has been contained.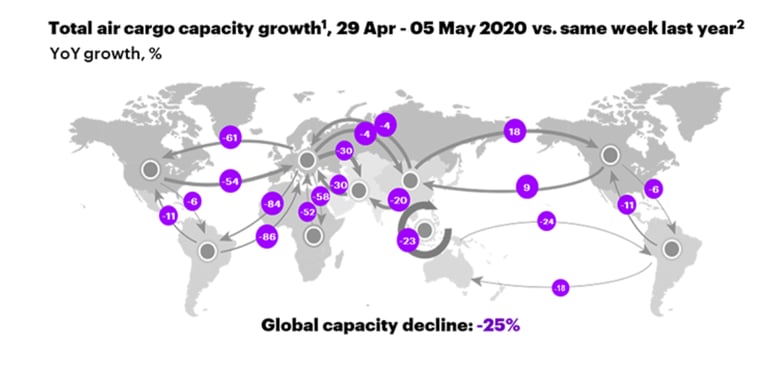 Express carriers such as UPS, DHL, FedEx, are experiencing more and more difficulties to ship parcels out of China, their handling terminals being engorged by freight and cargo shipments
AFG alternatives:
Asteelflash consol box from Hong Kong to Europe is working normally. There are charter flights out of China to Europe and USA (price upon request) and vice versa with our Global Approved Carriers. There are charter flights out of Europe to USA and vice versa (price upon request) with our Global Approved Carriers. There is also the rail road alternative from Asia to Europe
******
Situation as of May, 7th, 2020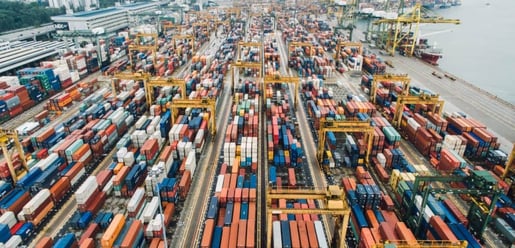 Air freight prices this week soared on routes out of China as demand for vital medical supplies to combat the Covid-19 continued to consume all available capacities.
With demand for personal protective equipment (PPE), pharmaceuticals, and essential food products outstripping capacity, the sky-high prices also reveal the heavy impact of losing so much belly space on China to Europe and the trans-Pacific trade lanes.
Close to half of total air cargo capacities were withdrawn from the key China to Europe and North Americas markets with the grounding of passengers' flight in March as the Coronavirus started to spread rapidly around the world.
The scheduled passengers' flights multiple daily and weekly flight provided the backbone of postal services, e-commerce shipments, couriers, and manufacturers using just-in-time strategies.
According to IATA (International Air Transport Association), global air freight volumes fell over 15% in March year over year while capacity tumbled 23%, and the space constraints have persisted through April.
In response, air freight rates continue to hit new highs every week.
Some observers anticipate high air rates even after shutdown ends, as many passengers flights and their cargo capacity will likely stay canceled even as other restriction are lifted.
Backlogs of cargo of Shanghai Pudong airport are expected to continue until at least mid- to late-May as demand for personal protective equipment (PPE) continues to surge.
The airport has been snarled up for weeks as a result of a surge in PPE demand, which is causing heavy congestion on feeder roads, parking lots, and cargo terminals.
As of today, terminal wait times of more than 72 hours cause cargo to miss flights.
Chinese airlines are restricted to only flying one route per week to/from China to all other countries.
Foreign carriers may only fly to China once a week, irrespective of the origin point.
Express carriers such as UPS, DHL, FedEx, are experiencing more and more difficulties to ship parcels out of China, their handling terminals being engorged by freight and cargo
AFG alternatives:
Asteelflash consol box from Hong Kong to Europe is working normally. There are charter flights out of China to Europe and USA (price upon request) and vice versa with our Global Approved Carriers. There are charter flights out of Europe to USA and vice versa (price upon request) with our Global Approved Carriers. There is also the rail road alternative from Asia to Europe.
******************
Situation as of May, 5th, 2020
Airlines have been continuing to respond to urgent demand for the transport of medical equipment by adding extra cargo capacity but it has not put the brakes on rate increases out of China and Hong Kong.
TAC Index figures show that last week average air cargo rates from Shanghai to North America went up by 13% on a week earlier and another record for the index which began in March 2016.
From Shanghai to Europe there was a 17% week-on-week increase, also a record for the trade.
Prices out of Hong Kong were also on the up last week – increasing by 22.6% week-on-week to North America and by 12.6% to Europe.
Flows of PPE (Personal Protective Equipment) out of China are expected to see further delays as the country enters a holiday period until Tuesday, 5th May (today) while rates continue to soar, triggering criticism of airlines.
Shippers are already experiencing delays out of China, which are expected, at least temporarily, to worsen.
Meanwhile, the shift reported last week towards using Hong Kong has continued.
Despite that capacity has risen, albeit modestly, (the total cargo capacity decline of 29% shows an improvement on the previous week, when it was 31% lower), rates have not gone down.
Cargo revenue contribution can and will make a huge difference to airlines when it comes to reinstating passenger routes, and it will have a significant impact on their choice of aircraft gauge (size) and service frequency.
Cargo's financial contribution has always been critical to passenger airline profitability, but will now take on a critical role in decision making for airline boards in the coming years as to which routes can resume profitably, and which aircraft is right to serve the anticipated demand.
There will be a belly capacity shortage as the weakest airlines disappear completely and older, cargo-friendly passenger wide bodies, are retired.
Airlines will strive to find profitable solutions to optimize their assets, in an environment where passenger yields and load factors alone cannot come close to providing the solution.
As airline fleets shrink and activity levels decline, airports will be seeking to retain and, hopefully, gain a greater share of the airline traffic and activity that will remain, and air cargo can and must play a central role in decision making.
There is much uncertainty as to what the future air cargo market will look like, but certain trends are evident: E-commerce demand will certainly continue to grow faster than anticipated; there will be a new tendency toward re-shoring or near-shoring supply chains to reduce risk; and geopolitics will have an increasingly important impact on both demand and capacity.
Situation as of April, 25th, 2020
For the first time since October 2018, the market see a contraction in capacity.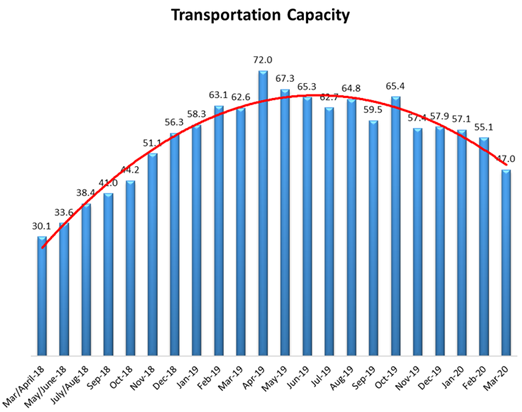 Civil Aviation Administration of China (CAAC) has limited incoming and outgoing passenger flights to a maximum of one per airline per foreign country each week, effective from March 29, further restraining belly capacity.
The number of blank sailings is expected to increase and the Labor Day holidays in May could trigger a new round of capacity cuts.
Anticipating the lack of cargo demand, several carriers have begun to slow down ships on backhaul legs, allowing the vessels to skip a week upon their return to Asia.
Covid-19 lockdown restrictions on consumers, particularly in Europe and the US, have resulted in a dramatic slump in demand for container space and forced ocean carriers to blank hundreds of sailings.
According to the latest data from Copenhagen-based maritime and supply chain intelligence company eeSea, carriers have so far cancelled 302 previously scheduled head haul voyages in May across the major trade lanes (– 11% of the 2,693 proforma sailings).
That number is likely to increase significantly as carriers assess the full extent of the damage to their forward bookings as a consequence of governments shuttering non-essential stores and entertainment centers.
AFG alternatives:
Asteelflash consol box from Hong Kong to Europe is working normally (except this week container that was cancelled due to blank sailing).
There are charter flights out of China to Europe and USA (price upon request) and vice versa with our Global Approved Carriers.
There are charter flights out of Europe to USA and vice versa (price upon request) with our Global Approved Carriers.
There is also the rail road alternative from Asia to Europe.