The Project
Each year, the Asteelflash manufacturing facility in Tunisia supplies one of its largest customers with almost three million printed circuit board assemblies for use in domestic appliances, and the customer confidently expects that its requirements will increase by an additional half a million units over the next year.
The PCB assemblies – logic and power boards – are essential to provide the extensive functionality that users expect from a wide range of their modern appliances, including refrigerators, washing machines, dishwashers, coffee makers and electric cookers.
The Challenges
The Solutions
The Benefits
The Challenges
To win this high-volume manufacturing contract in today's highly competitive marketplace, Asteelflash had to focus on several challenges.
One of the most important of these was the requirement for guaranteed quality and reliability in service. Asteelflash's customer is a prestigious company with a widely acknowledged reputation for supplying appliances that are both reliable and durable. It protects this reputation with the utmost care, which in turn means it places stringent demands on its suppliers.
Learn more on how to choose an EMS partner in this guide
For the assemblies it produces, Asteelflash is required to guarantee that a maximum failure rate of 150 ppm (parts per million) will not be exceeded, and it also has to provide all assemblies with a 48-month warranty.
While quality is a prime requirement, manufacturing agility is also essential, as the customer operates on stock-free basis. Its suppliers must not only be able to react immediately and produce products in sufficient volume to meet peak demand, but they must also be able to switch from one product line to another almost instantaneously, to accommodate fluctuations in sales performance of different types of devices. Only in this way can on-time deliveries, which are vital to the success of the customer's business, be achieved.
A final challenge is to align with the customer's expertise. While the customer is very experienced in product design, it expects its suppliers to continue to develop systems and processes to make these products even more efficient and cost-effective. It also expects feedback from suppliers such as Asteelflash on ways to optimize product design to facilitate manufacturing or reduce costs without compromising product performance or reliability.
In addition, when problems, inevitable in any manufacturing environment, arise, the customer expects its suppliers to develop and implement quick and effective solutions that minimize the risk of lost production and, ultimately, sales.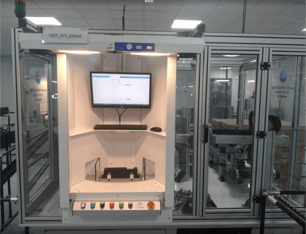 The Solutions
To meet the needs of this important customer, a completely new production line has been designed and installed at the Tunisian Asteelflash plant in Tunisia. This incorporates two types of production facility:
rotating tables
and an installation based on a powered conveyor.
Both make extensive use of automation, including robots.
Each of the rotating tables has two operators; one loads the assemblies into the machine where the required assembly processes are carried out, either manually or automatically, before the table rotates through 180º so that the second operator can unload it.
In this way, Asteelflash was able to achieve with only two operators a production rate that would have required at least ten operators with a more conventional approach to the production line.
The powered conveyor system has multiple automated workstations that can, for example, carry out complex component mounting operations, circuit testing, optical inspection with the aid of vision systems, labelling and the packing of products ready for despatch. The multiple test and inspection processes built into this system help to guarantee that the customer's requirements for product quality are consistently achieved. The system is also capable of exceptionally high throughput and routinely exceeds its key performance indicator (KPI) of 98% first pass yield.
To ensure the quality of its products, Asteelflash sources components for assemblies after conducting extensive qualification checks with potential suppliers. All components received by Asteelflash undergo rigorous sampling and batch testing procedures.
Asteelflash's rotating table and motorized conveyor production facilities are designed to support agile manufacturing and quick changeovers between products - changeover time for these lines typically does not exceed 10 minutes.
The facilities are complementary and the availability of them both makes it possible for Asteelflash to choose the most appropriate line for every type of assembly, depending on factors such as complexity, types and sizes of the components used in the assembly and required production volumes. This means that production can always be optimised to efficiently meet the customer's needs while minimising manufacturing costs.
Asteelflash meets customer requirements for collaborative expertise with a dedicated support team that includes engineering and business specialists, as well as a customer quality engineer.
In addition to its work related to ongoing production, this team fosters a common culture with the customer and is heavily involved in the introduction of new products. This involvement includes pre-market testing of products and product optimization prior to the start of mass production. There are currently plans to strengthen the team so that it can work with the customer's engineers on new product design even further upstream in the process, improving manufacturability and ultimately product quality.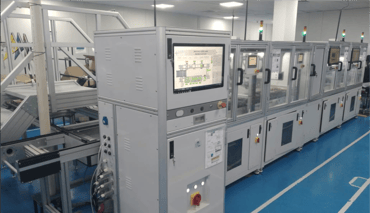 The Benefits
Working together has brought significant benefits for Asteelflash's customer, but also for Asteelflash. The customer enjoys dependable deliveries of high quality, fully tested assemblies that it can use with confidence in its premium brand products. It is also fully supported in its zero-stock approach to manufacturing, as it is confident that Asteelflash will deliver assemblies as they are needed and respond effectively to rapidly changing requirements.
Further, because Asteelflash has optimized its manufacturing, inspection and testing methods based on the volume and range of products required by the customer, competitive pricing is guaranteed.
In addition, the customer benefits from comprehensive and immediate access to Asteelflash's expertise, which it continuously developed by serving customers around the globe in almost every manufacturing sector, via the dedicated support teams that have been put into place.
Asteelflash benefits from the additional expertise and experience it has garnered through meeting the challenging needs of its customer, from the regular business it enjoys from this customer and from the prospects for increased business in the future as the partnership between the two organisations matures toward its full potential.