Four reasons why the EV market is strategic f or any EMS company offering design, engineering, and manufacturing services
1. In 2020, 33% of all new cars on the road will be EVs
In the next decade, the EV (Electric Vehicle) market will be the most profitable within the automotive industry, according to several studies.
With an ever increasing electronic content per vehicle, energy related sub-assemblies and modules as well as the charging infrastructure needed as ecosystem; it is a huge opportunity for EMS (Electronic Manufacturing Services) companies to jump into this aggressively growing market, serving the leading Electric Vehicles (EV) manufacturers.
2. Supposed by many governments to speed up mass adoption
Incentives are set up to encourage consumers to buy EVs. For example, grants are trendy in China, UK, USA, Germany or even Norway, among others in order to limit air pollution and to promote a more sustainable way of living. Since the number of PCBAs (Printed Circuit Board Assemblies) in Electric Vehicles and the complexity of these modules are higher than in traditional combustion engine vehicles, this trend represents a massive opportunity for electronic manufacturing companies, to offer electronic manufacturing and mass production services to automakers.
3. EMS providers already provide electronic manufacturing solutions to EV manufacturers
This means that the EV trend will increase EMS revenue. Ten years ago, the automotive industry represented 2% of EMS revenue. Today, it counts for more than 6% of their revenue. Due to the EV market growth, EMS will benefit from automakers and increase their revenue in the next decades. The experience that EMS companies acquired over the years by already working for automakers, number of processes, quality standard and so on, makes EMS more than ready to support EVs in there fast growth.
4. EMS providers' experience as contract manufacturers allows them to deliver high-end electronic manufacturing services, from design to mass production
Supply chain is under control thanks to the EMS's expertise and years of practice in various industries, such as Internet of things, smart home, smart building or green technologies. Thanks to their cutting edge technology, equipment, their global footprint of manufacturing facilities, but also thanks to their skilled workforce of engineers, operators, technicians and supply chain teams, EMS companies are able to bring electronic manufacturing solutions and innovation to automakers. Instead of starting from square one like automakers would for a new PCB Assembly, EMS companies will use their experience in automotive to strengthen supply chain management and mass production.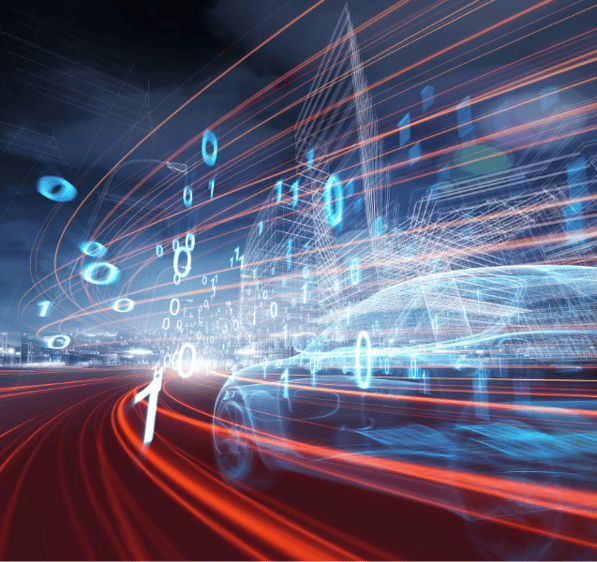 Four benefits of EV manufacturers working with a contract manufacturer
1. Saving money is the main benefit that EV manufacturers notice with EMS partnerships
Contract manufacturing companies work with many automakers and other various industries. This allows them to buy billions of components for printed circuit board assembly and, consequently, negotiate prices. Also, EMS companies are experts in their domain, allowing them to focus on many projects at the same time but still keep the highest quality and productivity possible. Last but not least, investing in equipment and machines is extremely costly. You'd better outsource your production to a Contract Manufacturing expert whereas trying to figure it out yourself.
2. By dealing with contract manufacturers, EV manufacturers benefit from their high-end expertise in EMS PCBA
As mentioned previously, EMS providers have already demonstrated their skills with supply chain performance and innovative manufacturing solutions. This makes it, an advantage in terms of performance and quality for automakers. In mass production, automakers benefit from EMS providers' skills and electronic manufacturing supply chain management.
3. Automakers benefit from EMS certifications and high-level manufacturing standards contract manufacturers complied to for years: TS16949, ISO 9000 and QS 9000
Thanks to all the standards and processes internationally established for years, electronic manufacturing service providers are able to assemble high quality components and create strong and viable PCBs. Automotive electronics require the highest level of quality. For instance, in the U.S., the same PCB must resist to extreme temperature gaps between winter and summer. So, certifications and manufacturing standards help EMS companies offering high quality manufacturing services to any automotive customer.
4. New EVs needs more components, more PCBs, more assembly.
Automakers introduced new technologies in vehicles and contributed to their competitive edge. In this innovative market, EV manufacturers must deal with EMS companies to use their innovative equipment and produce high volumes with the best efficiency and productivity possible.
Finally, contract manufacturing companies are the solution for EV manufacturers. The overall goal is to increase production, in order to respect government mandates, increase EV sales and limit carbon dioxide emissions internationally.
At Asteelflash, we understand the automotive industry needs and constraints. We have been providing, for years, engineering and manufacturing services to our customers.