Bringing production close to your clients and end market will help you stay competitive in an increasingly tough market. From boosting regional economic growth, to reduced hidden costs and a more resilient supply chain — it's a smart way to ensure better customer experience and improved product value, and to safeguard time-to-market.
Your EMS company partner ensures you get the most out of producing locally. Here are 3 ways Asteelflash can help you stay competitive and get the most value out of
producing close to your end market. Read more about the benefits of bringing production close to clients in our blog post, 5 Reasons to Produce Close to Your End Market.
3 ways Asteelflash can help you stay competitive and get the most value out of producing close to your end market
Enjoying the benefits of an International footprint
Capitalizing on Automation
Product transfer
1. Enjoying the benefits of an International footprint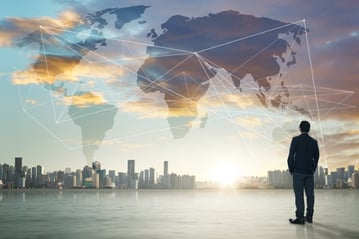 Asteelflash owns and operates 17 fully fitted manufacturing plants in countries around the world, including the United States, Mexico, France, Germany, Tunisia, China, Czech Republic, and the United Kingdom.
This international presence means that Asteelflash can think in global terms when securing suppliers or following through on purchasing policies. As a result, partnering with Asteelflash can be more cost-effective than partnering with an EMS company that has limited reach.
In some cases, critical products like defense & military equipment are built in very small quantities and need to be produced locally to safeguard intellectual property. Because of a robust international footprint, Asteelflash is able to support small and larger customers in the same, quality-assured way.
Cost-effective, local production with an internationally established EMS partner means improved time-to-market. This, in turn, helps you serve your customers better, and enjoy an optimized production process — regardless of your company size.
2. Capitalizing on Automation
Today's trend of automating the manufacturing process is fed by the drive to cut costs and improve value. But for an EMS company, investing in automation takes time, effort, and ready-cash. Larger companies, like Asteelflash, can transfer the benefits of automation onto your product manufacturing process more easily than smaller competitors.
Automation makes it easier to transfer projects from a factory to another within the same company. If your EMS company partner already has automated processes in place, you can enjoy cost savings and standardized processes and products no matter where your end market is.
At every Asteelflash plant, SMT lines are fully automated and robots along the production line help automate many other processes — such as testing or soldering, depending on the customers' needs. This makes transferring production much easier, as the equipment at each factory is the same. This way, whether you're transferring production of an existing product to a new location (whether NPI done locally, or mass production in one of our low cost locations), or beginning manufacture on a new project, you're assured of cost-effective, standardized, and quality-controlled manufacturing.
The possibilities are endless when working with an EMS that offers local and global solutions: you can work together towards the best option according to your goals and needs.
3. Product transfer
Choosing the right EMS partner is key to successful product transfer — whether you're thinking of moving production from a high-cost region to a low-cost region, or planning to bring production closer to your end market to rationalize and secure the process.
For the past 20 years, the trend has been to locate production in low-cost factories in places like Mexico, Tunisia, China, and the Czech Republic. Even with offshore production, it was usually possible to manage time-to-market efficiently. Global crises like the COVID-19 pandemic, geopolitical risks, and the climate crisis have threatened this, placing supply chain security back into the spotlight. Local production ensures you deliver products at the right cost, on time and with the best quality, despite global challenges.
Asteelflash offers product transfers in an efficient 4-phase process. From the project launch, where needs and feasibility are scoped, through to SIR validation and ramp up — project transfers can be managed in a matter of weeks. Find out how our team achieved such a lightning-fast transfer in our blog post, How to Manage a Product Transfer in Less Than a Week.
Maintain your competitive edge with Asteelflash
At Asteelflash, we partner with our customers and respond to their requirements in every way we can. For example, our engineering and procurement team prioritize quality workmanship that meets customer target prices.

Contact the team and discuss your project goals and production requirements. We'll help you if you decide to produce locally or offshore, and highlight the key advantages of each solution to both your company and your project. Or, if you're ready to go one step further, click the button below to talk to our team of experts and discuss the best manufacturing solution for your needs.