Producing closer to your end market has traditionally been associated with higher costs, even though low-cost regional solutions are generally available (Tunisia for the European Market, for example). Nevertheless, OEMs are increasingly relocating their manufacturing to secure their procurement and, in doing so, finding that it can actually reduce total cost of ownership.
Does producing closer to an end market threaten a company's international presence? At Asteelflash, working with companies of various sizes with markets all over the world, in fact, we've found the opposite is true. Here's how we've helped our partners access international markets.
Relocalization, the Asteelflash way
We've helped small, local companies access the international market through a kind of "reverse delocalization".
Traditionally, delocalization has been used by transnational corporations and larger companies to reduce costs by transferring production to countries with lower operational costs. This benefits the company, with reduced manufacturing cost, mainly thanks to a cheaper workforce and therefore higher capacity.
According to a study completed for the European Parliament's committee on Industry, Research and Energy (ITRE), a balance must be struck between offshoring and local production that offers advantage both to companies looking to reduce costs, and their local economies.
Recent crises like the COVID-19 pandemic have also threatened supply chains and highlighted the significant risks (and associated cost increases) that can quickly destabilize the whole ecosystem. At Asteelflash, we've helped clients avoid disaster and maintain or grow their international markets over this time.
How Asteelflash can help you grow internationally ?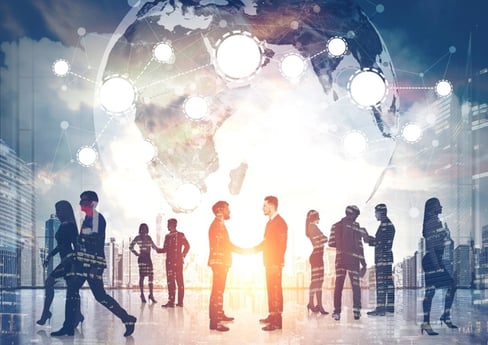 With 17 fully fitted manufacturing plants around the world, Asteelflash can ensure standardized production of even high-complexity, low-yield electronics close to your end market or in low-cost locations. Through the Asteelflash network, clients can enjoy the benefits of delocalized production with lower risks.
For example, one client who initially manufactured their products with us in the US requested a transfer to our Mexican plant once the product was stable. Because Mexico is part of NAFTA, our client enjoyed the cost savings associated with delocalized manufacturing through the location's lower operational costs and customs charges. And because Mexico is easily accessible (an hour flight from San Francisco), they also enjoyed the short delivery times and more secure procurement than if their manufacturing was further afield. Something similar happened with a German customer, who transferred their project to our Tunisian facility, and a French customer who transferred production to our Chinese facility.
A second example: one of our US clients decided to move their production from China to Tunisia, because of prohibitive US–China tariffs. Through the Asteelflash network, they could maintain their competitive pricing by keeping costs down, without risking quality or the security of their supply and production chain while staying close to their end-market.
Some clients have also worked with us to produce their new generation products in France, Germany, or the US — directly at end markets, at competitive cost and with reduced risks.
And we often work with many local start-ups that would otherwise find it difficult to reach the international electronics market. With our help, these promising start-ups can industrialize their product at an optimized cost, and through our international network, they have access to manufacturing plants that are close to them.
Join the Asteelflash network
Asteelflash creates value for our customers through our range of EMS services. Whether you're bringing a new product to market, or looking to transfer production, contact the Asteelflash team and let's connect. If you'd like to request a quote and translate the advantages of local production into real terms, click the button below.