Electronics manufacturing is an exciting and rewarding sector to work in, but out of the many active companies in this sector, why in particular should you consider working for Asteelflash? And if you do make this choice, what do you need to know about getting a job with the company?
Asteelflash maximises the benefits
One of the most exciting things about working in the electronics sector is being at the forefront of new technological developments, creating new products and systems that will have a tangible impact on consumers. But in today's world, it's in the bigger companies that these developments are most frequently seen. Asteelflash, in association with USI, is one of the world's biggest electronics manufacturing services (EMS) companies and has pioneered many cutting-edge developments.
Working for a large dynamic company has other benefits, not the least of which is a clear career path. Since it was founded in 1999, Asteelflash has had an enviable record of expansion and growth. This continues today and means there are always opportunities within the company for employees to progress, taking on more senior roles and increasing their rewards.
Asteelflash operates globally, with facilities in 18 countries and every continent except Antarctica. It can therefore offer opportunities to travel and work in different countries, learning about new cultures and gaining insights into industrial operations worldwide.
Working in electronics manufacturing
Working in electronics manufacturing is undeniably fast-paced, involving the regular appearance of new developments, new customer requirements, and constant pressure for fast deliveries of prototypes and products in production quantities. It's also a technical environment. However, the pressure and constant change can be stimulating, ensuring that the work never settles into routine drudgery, and, for many people, the exposure to technology adds fascination and interest to the job.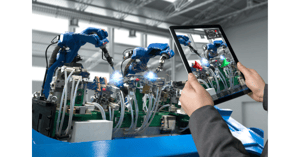 Joining Asteelflash
Asteelflash most frequently recruits graduates with electrical engineering, electronics, physics or software development qualifications. However, nearly one hundred different professions are represented among Asteelflash's current employees, so those with qualifications in other disciplines should not be deterred from applying. At many of its sites, Asteelflash operates a thriving internship scheme allowing potential employees to gain first-hand experience working for the company. When recruiting for permanent posts, preference is given to candidates who have completed internships, although this is not an essential requirement.
Recently qualified graduates will typically work initially as graduate engineers under the guidance of more experienced colleagues. After gaining experience in this role, opportunities are likely to be available, depending on the current requirements of the business, for progression to more senior technical positions or to move into management. Asteelflash has a strong policy of promoting from within, wherever possible, creating the best environment for employee advancement.
More reasons to join Asteelflash
Asteelflash is one of the fastest-growing electronics manufacturing companies in the world, and as a result, it can offer opportunities that are not available elsewhere. So, if you're passionate about electronics and want to work in a dynamic EMS environment where you will contribute to bringing new and innovative products to market, join us! A