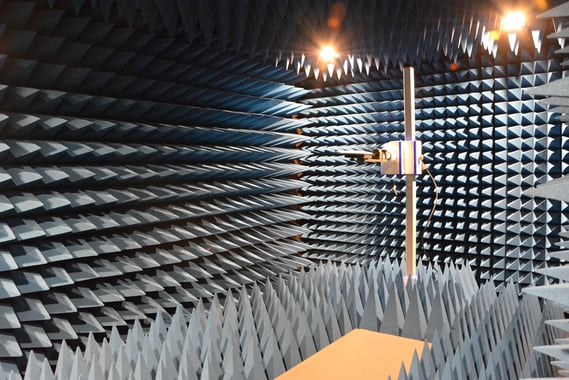 Our design center in Grenoble has recently built in an anechoic chamber, a service with more and more demand where it is difficult to find availability in existing laboratories. Its purpose is to serve as an experimental room whose walls absorb electromagnetic waves in a free field condition in order to measure electromagnetic disturbances by radiation.
This anechoic chamber allows us to go further in the services we offer. This new service is an addition for the development of our customers' products in order to pre-qualify their project from the prototyping stage, making it possible to accelerate industrialization and thus reduce the time to market.
Below is a list of all the pre-certifications that can be performed in the anechoic chamber :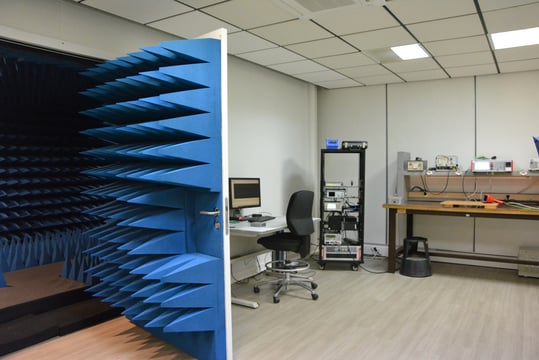 Radio pre-certification EN 300 220 (Sub-GHz)

Electromagnetic Compatibility and Radio Spectrum Issues (ERM)
Short Range Devices (SRD)
Radio equipment for use in the 25 MHz to 1000 MHz frequency range with power levels up to 500 MW
Radio pre-certification EN 300 328 (Wifi, BLE / Zigbee)

Broadband transmission systems;
Data transmission equipment operating in the 2.4 GHz ISM band and using wide band modulation techniques;
Harmonized standard covering essential requirements under article 3.2 of directive 2014/53/EU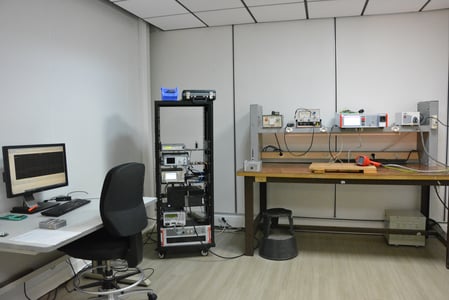 EMC pre-certification EN 301489

Electromagnetic compatibility and radio spectrum matters (ERM)
Electrostatic discharges Immunity EN 61000-4-2: 2009

DES direct (Touch/Air) and/or Indirect (VCP/HCP)
Electrical fast transient/burst Immunity EN 61000-4-4: 2012

DES direct (Touch/Air) and/or Indirect (VCP/HCP)
EN 61000-3-2 v2.0 (2008-08) - Limits for conducted emissions (Mains rejections with RSIL)
At Asteelflash, we work hand-in-hand with our customers and that is why we are happy to be able to offer this additional service.
Located in Grenoble, our design office (Asteelflash Développement) offers extensive expertise in product design from the identification of needs to industrialization.