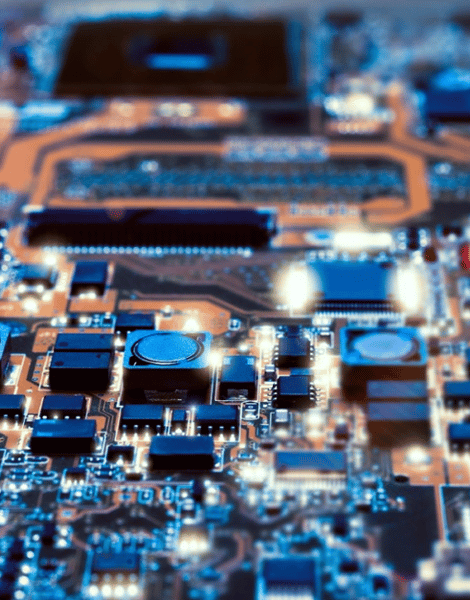 Printed circuit board assemblies (PCBAs) are an integral part of many products builds. But finding the right electronic manufacturing services company to help you create one makes a significant difference to product optimization. On this page, we examine the different ways EMS companies offer PCBA manufacturing services to their customers, and how you can form the right partnership to serve your production needs.
Table of Contents
PCB vs. PCBA: What's the difference ?
The difference may seem slight, but knowing how PCBs and PCBAs differ will ensure your search for an appropriate manufacturing partner doesn't go unrewarded.
A PCB, or Printed Circuit Board, connects electronic components onto a non-conductive substrate. A simple PCB consists of a flat sheet of insulating material and a layer of copper foil, laminated to the substrate. A PCB might consist of multiple layers, and electrical current passes around and between boards through circuit traces (conducting lines created through chemical etching), and copper-plated holes called "vias".
A Printed Circuit Board Assembly (PCBA) is a PCB that's had electronic components soldered onto it. This makes a PCB functional and able to perform the electronic task for which it was designed. PCBAs are found in almost every industry. From Smart Home products to electric cars, medical diagnosis equipment, and wearable devices, PCBAs lie at the heart of technology we now take to be ubiquitous. Read more about AsteelFlash's PCBA manufacturing. You'll see how it forms the basis of a productive partnership with Asteelflash that optimizes your product value every step of the way.
What does a PCBA manufacturing process look like ?
When you're choosing an electronic manufacturing services partner to fulfill a PCBA order, it pays to know what you can expect from a typical manufacturing process. You'll be better equipped to recognize whether they can fulfill your needs and ensure reliable service that safeguards against production delays or low-quality products. At Asteelflash, we follow these key steps to manufacture the highest quality PCBAs:
Screen Printing.

Solder paste is put on a PCB to establish electrical connections. Cycle time is approximately 30 seconds, regardless of the size of the wiring board. This process is also known as stencil printing.
Solder Paste Inspection (SPI)

. 3D optical inspection machines scan the PCB to verify if the volume of deposited solder paste complies with quality control standards. If these standards aren't met, the entire process is repeated.
Component Placement

. During this stage, components listed in the Bill of Materials (BOM) are placed on PCBs by robot modules. The length of the production line depends on the number of components on the PCB.
Solder Melting

. The new PCBAs then go through a tunnel reflow oven to melt the paste and form a solder joint. This joint solidifies as the PCBA cools.
Automatic Optical Inspection (AOI)

. This second inspection verifies that all components are still on the board. The polarity and size of the solder joint are verified. This is a fully automated inspection.
For double-sided assembly, the PCBs are flipped and the process is repeated. Before products are sent to customers, they're subjected to a range of inspection tests. You can read more about this form of quality assurance in this blog post on the Asteelflash PCBA manufacturing process.
The difference between PCBA-only and full-spectrum EMS support
Not all PCBA services are equal. Here are some reasons why :
Ability to meet demand.

Some PCBA manufacturers might not be capable of meeting the demands of

PCBA mass production.

"High mix, low volume" orders, and more complex PCBA builds may also require manual operations. These factors may affect a company's ability to meet your production needs reliably and cost-effectively.
Electronic Manufacturing Services or PCBA Manufacturing ?

Your PCBA manufacturer can be so much more than a parts supplier. Some companies can support you from co-design, through engineering, and onto mass production. This can mean design improvements on your PCBA, but also incorporate

Box Build Assembly, Full Product Assembly, Conformal Coating and Surface Treatment, and Testing and Fulfillment.
Choosing the right EMS company to partner on your project from A to Z can improve your time to market, ensure on-time delivery, and guarantee standardized quality on a global scale.
5 Tips to help choose the right PCBA manufacturer
How would you vet a potential PCBA manufacturer? Here are 5 considerations to help you make the best choice:
Technical expertise : a

team of expert engineers with world-class technical expertise will deliver a better product. Prioritize working with companies that offer advanced engineering capabilities. It will help ensure that your PCBA build is optimized every step of the way, from design to assembly.
Compliance with international industry standards : PCBAs are used in almost every industry, from sustainable/renewable energy to healthcare and consumer electronics. Ensure your preferred PCBA manufacturer is both willing and able to comply with the international industry standards of your sector, as well as electronics manufacture in general.
Cross-sector portfolio : solutions and processes developed in one sector often can be used for the benefit of another. Technologies first developed for the automotive industry, for instance, are now regularly used in robotics. An EMS PCBA company that services multiple industries can offer an excellent, extensive technical experience that ultimately benefits your product.
Global footprint : a

company with a global footprint will understand, and help you realize, your full market potential. If you're hoping to expand beyond local markets, work with a company that has an international presence. They'll have deep insight into international industry standards, have access to a wider knowledge base, and help you design and introduce a context-sensitive product.
Take a closer look at what qualifies an expert PCBA manufacturer on our resource page on electronic manufacturing services It's your essential guide to how an expert EMS company can optimize your product's value and has a dedicated section on what to look for in an EMS provider. Whether you contract for PCBA-only services or would like expert support throughout your journey to bring your product to market, the same vetting standards would apply.

Industry 4.0 and the future of PCBA manufacturing

We're living through the fourth industrial revolution — the age of AI, the Internet of Things, robotics, and other disruptive technologies. By embracing AI, smart technology, robotics, and the like, PCBA manufacturers can offer you improved efficiency, cost-effective design and production, and improved product reliability.

For example, using artificial intelligence (AI) gives EMS and PCBA manufacturing companies the following advantages: improved performance, effective asset management, reduced scrap rate, and better supply chain management. With the increasing efficiency of AI in PCBA manufacturing, the future looks bright. Read more on the evolution of Artificial Intelligence and its impact on PCBA optimization here.

An expert PCBA manufacturing partner can help you anticipate market needs, and serve them reliably and in a cost-effective way. Learn more about how Asteelflash helps improve your product value and impact through their approach to PCBA manufacture in their latest guide.