AIR FREIGHT
Although demand is showing some signs of improvement, another factor is complicating the economic situation in the cargo business, namely vigorous capacity growth.
Air companies offering passenger and cargo services are giving priority again to the passenger business, which is growing fast.
The cargo business has returned to its supporting role, which is certain useful as it contributes to the profitability of a flight but without having any real impact on capacity.
In April 2023, available capacity in ton-kilometers increased by 13.4% over April 2022 but with radically different performances according to the type of aircraft concerned.
Capacities on passenger aircrafts shot up 47.9%, while cargo aircraft capacity fell by 2.3%.
"Preighter" operations came quite simply to a halt after 2.5 years of constant activity, according to IATA.
These operations involved using passenger aircraft, including their passenger cabins, to carry freight during the Covid pandemic. With the passenger business out of action, this enabled them to respond to the strong demand for capacity to transport pharmaceutical products and personal protection equipment by air.
In April, for the first time in three years, freight capacity exceeded its pre-pandemic level, with a 3.2% increase.
At the same time, however, cargo volumes were still 5.3% down on their April 2019 level.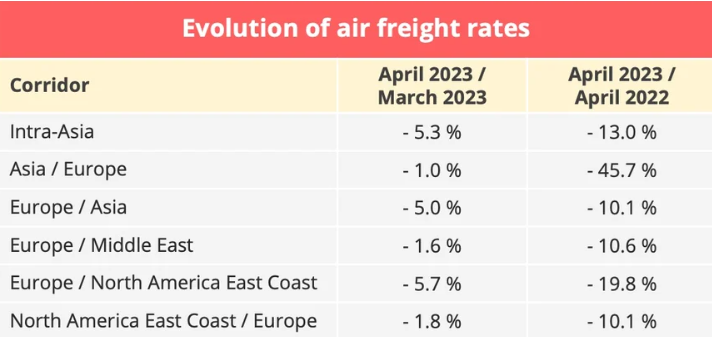 Source: Upply
SEA FREIGHT
The global shipping industry is constantly evolving, and the COVID-19 pandemic began a marked shift in how container shipping operates.
Disruption caused by the pandemic has forced the industry to expand its capacities and reduce costs to remain profitable.
In his monthly forecast for July, Drewry predicts a modest rise in spot rates in July, while acknowledging that the market has become more difficult to predict than before.
The volumes transported on the major East-West trades are at high levels.
But what is preventing rates from rising sharply is that companies have increased their capacities with new cargo ships sailing.
Besides, the rate of blank sailings until the beginning of July, on the main routes, is at a low average of 5%, while new ships continue to feed the market.
Therefore, schedule reliability has improved and rates are decreasing.
Rates evolution since July 2022

Source: Upply
Schedule reliability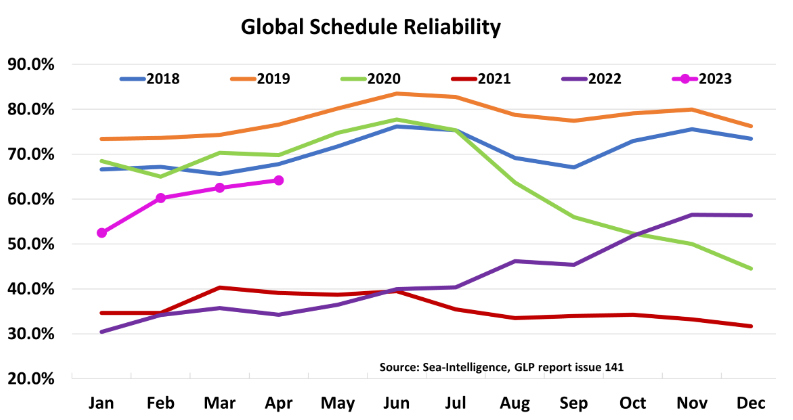 USA
The Pacific Maritime Association (PMA) and the International Longshore and Warehouse Union have finally reached a deal for a new six-year labor contract at twenty-nine west coast ports, bringing to a close a fraught thirteen months of stalled negotiations, walk-outs and cargoes emigrating to alternate locations.