UPDATE 3/14
The situation has unfortunately changed over the past weekend as far as the Covid pandemic goes in China. As the spread of the Omicron worsens in China, particularly in Shanghai and Shenzhen, authorities have put in place new restrictions that will impact logistics operations.

SHANGHAI
Since last weekend, the number of confirmed cases in Shanghai has increased. Citizens have been encouraged not to leave the city unless necessary. Shanghai's high-risk areas are under lockdown but there is no full lockdown in the city yet.
As the situation continues to worsen, this measure could be implemented in the coming weeks.
Airfreight: passengers' international flights of Chinese airlines have been diverted to other cities (Changsha, Taiyuan, Kunming, Wuhan, Xiamen, Fuzhou, Jinan, Hangzhou, Ningbo, Chengdu, Chongqing, Dalian, Nanning) from March 17 to April 28.
Currently, cargo/charter flights and foreign airlines are not affected, but the diversion of passenger aircraft will impact air freight rates.
Trucking: road service is operating normally but a nucleic acid test report within 48 hours is required to enter/exit Shanghai province.
Sea freight: and logistics are currently not significantly affected so far.



SHENZHEN
The city of Shenzhen is on lockdown. Citizens are not allowed to leave their homes except to take three rounds of nucleic acid tests, all public transportations in Shenzhen have stopped working. All businesses in Shenzhen will be closed from March 14th to 20th, except for essential services.
Airfreight: no official restrictions at Shenzhen airport
Sea Freight: no official announcements have yet been issued by Yantian Port, but carrier offices in Yantian are closed, low efficiency is expected.
It is expected that no cargo can be loaded in Yantian from next week and ships will avoid the port.
All ships already loaded and departing this week will depart as scheduled.
Logistics business: all warehouses in Shenzhen have been closed, therefore all LCL cargo will need to be transferred to Guangzhou for loading and then sent to Yantian Port, which will cause further delay. All shipments must be verified on a case-by-case basis.
Road logistic: trucks from outside Shenzhen cannot enter the city.



CROSS-BORDER TRUCK FOCUS, MAINLAND CHINA <> HONG KONG:
All trucks from Shenzhen to Hong Kong have been suspended. Trucking services between Guangdong province and Hong Kong are possible but very limited. There are currently also transshipment solutions through carriers from/to Guangzhou (another city in Guangdong) from/to Hong Kong.
Please note that an additional 4-5 days should be expected for cross-border shipments.

The situation is changing quickly and is being monitored very closely and we will provide you with the most up-to-date information.

---
UPDATE 3/09
WW OUTLOOK
On top of the Covid-19 crisis, which has been disrupting the global supply chains for over two years now, international trade must face a new ordeal: the war in Ukraine.

As far as air freight is concerned, with most airlines and fleets no longer flying over Russia and Ukraine, each flight lasts for an extra 2 to 3 hours, which generates 15 tons more fuel per plane and therefore as much less freight transport capacity, and a significant additional cost in kerosene.

On the rail/road trade lane from Asia to Europe, The Silk Roads are completely at a standstill.
There is an average of 500,000 TEU containers (equivalent to twenty feet) per year which are transported by train from China to Europe. A company such as Decathlon is one of the big rail consumers, who will shift to sea freight, which adds additional demands while the situation is already tense in this sector.

Note that fuel prices are now above USD 100 per barrel, reaching USD 130 today.
If OPEC does not increase its production, or if the United States and China do not release emergency stocks, fuel could reach unprecedented levels next month. This will have an immediate impact on transport costs and inflation in many markets and will reduce demand for air freight and push demand further towards sea freight.


USA
Currently, 57 vessels are loitering/drifting/slow steaming heading to San Pedro Bay. 54% of them carry over 10.000 TEUs.
The average days at anchor at Port of Los Angeles is of 11 days. The congestion, which the west coast ports have been featured in the news, is now making its way to the east coast, leading to increased congestion up and down the Atlantic.

WAR IN UKRAINE
An immediate consequence of the war in Ukraine is the soaring cost of fuel and shippers need to be prepared for upward movement in ocean BAF, airline fuel surcharges, and trucking fuel surcharges.
Freight forwarders are warning of higher supply chain costs as the impact of the invasion of Ukraine disrupts transportation operations.

The forwarding sector said the airspace restrictions imposed by Russia, European states, Canada, the UK, and North America were forcing airlines to cancel and adjust services.
It seems that the current situation will trigger an immediate capacity constraint across transport modes, as well as pressure on freight rate levels, including oil price increases.
---
UPDATE 2/28
HONG KONG
A new wave of Covid 19 has hit Hong Kong this week, leading to an exceptional situation of lockdown: 80% of truck drivers had their driving licenses revoked and only 10% of checkpoint locations remain open; as a consequence, all shipments departing from Hong Kong are being sent back or denied; the Asteelflash transportation team is working on a backup plan in order to mitigate the impact on the supply chain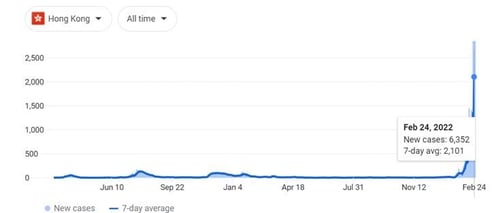 Asia → North America
Carriers expect strong post-CNY demand despite some Covid-related uncertainties that could impact the resumption of production.
Either way, inventory remains low and everyone is looking to exploit any opportunity as the outlook for space is tight overall.
Congestion and trucking capacity shortages are severe and there is no sign that they will ease.
Carriers continue to prefer East Coast bookings due to unsustainable congestion in LA/LB, creating additional bottlenecks in other ports.
Contracts: over the past two contracting seasons, carriers have taken a strict stance of not opening new named accounts, and the same should be true this year unless the market changes drastically in the coming months.
Rates: Rate levels remain high, especially premium rates.
Space: Critical.
Ability/Equipment: Critical/ Severe under capacity

Currently, 70 vessels are loitering/drifting/slow steaming heading to San Pedro Bay. 46% has over 10.000 TEUs.

Asia → Europe
A week after CNY, there is a slowdown in bookings, as factories are only gradually resuming work now.
However, space and equipment continue to be tight due to the rolling pool that carriers have built up prior to CNY and due to a large number of upcoming blank sails in weeks 9 and 10.
These are not just planned blank crossings, but also ad hoc crossings due to schedule delays.
The reliability of schedules is very low and there are still many ships that deviate from the CNY period.
Rates: Rates remain at a high level for the post-CNY period, mainly with extensions until the end of February.
Space: Critical situation.
Capacity/Equipment: Severe shortage of equipment in all regions of Asia.


ACTS OF WAR IN UKRAINE
Ukrainian airspace has been closed as navigation services declare the region an active conflict zone.
There are four major risks to supply chains:
Physical availability of commodities produced in Ukraine and Russia (specifically natural gas and oil);
Global commodity prices (already high) could surge further – adding to inflation pressures;
Physical disruption of logistics networks as flights are diverted around the conflict zone and transportation insurance costs are likely to rise;
Widening sanctions could complicate customs and billing activities
---
UPDATE 2/14
AIR FREIGHT
Capacity constraints and high air cargo rates are expected to continue for the time being as the industry continues to battle with the impact of Covid-19.

Full-year demand for air cargo increased by 6.9% in 2021, compared to 2019 (7.4% for international operations) and 18.7% compared to 2020, following a strong performance in December 2021. This was the second biggest improvement in year-on-year demand since 1999. However, while global demand rose, capacity was 10.9% below 2019 (12.8% for international operations). Capacity remains constrained with bottlenecks at key hubs.
Strong air cargo rates are set to continue AND capacity and ground handling challenges will continue.

In December 2021, rates were almost 150% above 2019 levels: the fourth quarter of 2021 to the same period in 2019 showed that rates continued to increase on a global level, on average two and half times as high as pre-Covid.
Besides, it has become tougher to move goods because of the challenges ground handling staff faced in loading/ unloading/ freighters. This led to congestion, which affected throughput.

In the first two weeks of January 2022 compared to the same period in 2021 rates were up more than 40%.
Covid-related labor shortages and quarantine restrictions will keep capacity tighter for longer and this may result in persistently elevated airfreight rates. Pharmaceuticals, PPE, and e-commerce demand are set to continue to be strong drivers for the air cargo industry,


SEA FREIGHT
In the latest Baltic Exchange market round-up, industry observers say that ongoing issues in ocean freight and the emergence of the omicron variant have delayed hopes of the market returning to normal. The average delay of container ships arriving at Shenzhen's Yantian International Container Terminal (YICT) in recent days is 170 hours (more than 7 calendar days), where congestion is severe.
The same observation is made at the port of Shanghai, where the delays recently reached 7 days as well.
USA
There are currently 2 container ships at anchor within the 25-mile zone of the port complex and another 88 ships loitering outside of the 25-mile zone awaiting berths in LAX/LGB. 43% has over 10.000 TEUs.

Both ports are seeing record volumes month after month that challenge the existing port infrastructure. Gates are still running as published and in line with the Pier Pass program. Port of LAX dwell times for import cargos are at 5 days, down from 11 days peak. Import units on street waiting time is averaging 8.8 days. On-dock rail remains at 2 days. Down from 13.4 days peak.

Besides, the chassis pool's utilization has dropped slightly below 90%. All terminals remain extremely congested and limit the windows for export cargo acceptance depending on their specific situation. The scarcity of chassis is affecting all types of moves, from local deliveries to terminal moves to/from off-dock rail ramps.

Please note the current average dwell times at several terminals/ramps:
Chicago, IL - Average 6.9 days
Dallas, TX – Average 7.9 days
Detroit, MI – Average 5.7 days
Houston, TX – Average 9.9 days
Kansas City, MO – Average 9.7 days
Long Beach, CA – Average 12.1days
Los Angeles, CA – Average 10.6 days
Memphis, TN – Average 4.9 days
MMR Rail New York – Average 2.4 day
New York, NY - Average 11.2 days
Norfolk, VA – Average 12.4 days
Savannah, GA – Average 12.3 days
UPDATE 1/26
WORLDWIDE OUTLOOK
This week is the last before the start of the Chinese New Year.
In anticipation of the total shutdown that will affect China for a week, companies are rushing to make their last imports/exports to China, which leads to very high tensions on freight rates and difficulties in removing the goods.

Companies are bracing for another round of potentially debilitating supply chain disruptions as China, home to about one-third of global manufacturing, imposes sweeping lockdowns in an attempt to keep the Omicron variant at bay.

The measures have already confined tens of millions of people to their homes in several Chinese cities and contributed to a suspension of connecting flights through Hong Kong from much of the world for the next month.
At least 20 million people are in lockdown, mostly in the city of Xi'an in western China and in Henan province in north-central China.

The country's zero-tolerance policy has manufacturers — already on edge from spending the past two years dealing with crippling supply chain woes — worried about another round of shutdowns at Chinese factories and ports.
Additional disruptions to the global supply chain would come at a particularly fraught moment for companies, which are struggling with rising prices for raw materials and shipping along with extended delivery times and worker shortages.

Four of China's largest port cities — Shanghai, Dalian, Tianjin, and Shenzhen — have imposed narrowly targeted lockdowns to try to control small outbreaks of the Omicron variant.
Volkswagen and Toyota announced last week that they would temporarily suspend operations in Tianjin because of lockdowns.

Capacity constraints and high air cargo rates are expected to continue for the time being as the industry continues to battle with the impact of Covid-19.

In the latest Baltic Exchange market round-up, industry observers say that ongoing issues in ocean freight and the emergence of the omicron variant have delayed hopes of the market returning to normal.
Indeed, the Index average for the month of December was an increase of 4% in November, up 55% versus 2020 and a "staggering" 210% increase over the same period in 2019.

The air freight index finished the year at double the levels seen in January in response to increased demand and capacity constraints driven by unprecedented levels of continued disruption across all supply chains.
There is currently little evidence that rates will fall significantly in the period up to the Chinese New Year as backlogs are cleared and inventories restocked.
Demand for international passenger flights is expected to be subdued throughout 2022 as many regions in the world still have a long way to go in their vaccination programs.

Besides, the issues in ocean freight would also continue to keep the airfreight market tight.


In a nutshell, Omicron has kept global business travel and belly capacity at bay.
It has also reduced ramp and freighter capacity.
In practice, there have been more infections and thus more handlers and flight crews calling out sick (increased virulence despite less reported severity for vaccinated individuals)

USA

US supply chains struggle under increasing pressure, with weather concerns and rail cargo looting exacerbating the situation.
The West Coast's congestion woes are yet to subside resulting in East Coast ports, namely New York and New Jersey, seeing increased volumes of vessels at anchor awaiting berth slots.
Labor numbers are still low in the road freight sector, whilst localized rail freight restrictions have been put in place and flights are grounded.

A shortage of labor and equipment continues to plague North America's road freight sector, pushing prices up with various carriers as supply struggles to meet demand.
Chassis availability still remains low, leading to issues in moving containers from factory to port in many key production hubs.

The American trucking industry has lost around 6% of its workforce since the beginning of the pandemic, with stricter regulations and increased job opportunities elsewhere being deciding factors for truckers, a trend that predicts there could be a shortage of 130,000 drivers by the year 2030 (CNN).
---
UPDATE 1/7
AIR FREIGHT
Air cargo capacity continued to edge back towards 2019 levels at the end of November but strong demand and congestion have continued to push up prices on the transpacific trade lanes.

Figures show that air cargo capacities in the last two weeks of November were 5% lower than the same period in 2019 and up by 2% against the beginning of the month.
This compares to capacity being 9% down year on year six months ago and down by around 20% 12 months ago.

Looking deeper into the figures, airline freighter capacity at the end of November was up by 17% compared with two years ago, wide-body passenger belly capacity was down by 36% and integrator freighter capacity was up by 31%.

Despite capacity slowly edging back to 2019 levels, rates remain higher than two years ago as demand stays strong and congestion on the ground, and ULD shortages have created backlogs.

The rate increases were led by the transpacific trade; the Baltic Exchange Airfreight Index (BAI) shows that prices from Hong Kong to North America last week reached a record $14.30 per kg compared with $12.41 per kg one week earlier.
The Omicron variant is set to keep air cargo capacity tight and as a result air cargo rates will remain at an elevated level: the new variant will restrict network capacity due to safety protocols, episodic infection, and national response.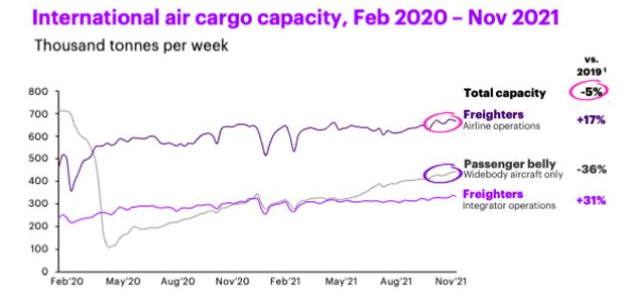 TRUCKING IN EUROPE
The shortage of truck drivers is becoming a real issue in Europe because of the profession's lack of attractiveness.
Added to an increase in the price of fuel, prices should increase significantly in the coming weeks, which breaks with the dynamics that have been observed for almost 40 years.
According to an expert in the sector: 'The hypothesis that shippers will have to live in road transport what they have experienced in maritime transport for 18 months, namely a lower level of service at a higher cost. Similarly, the USA is lacking about 100 000 truck drivers.

CHINESE NEW YEAR
The Lunar New Year holiday and the beginning of the Year of the Tiger are coming up. The holiday will take place from:
• January 31 - February 6 in mainland China
• January 31 - February 2 in South Korea
• January 31 – February 4 in Vietnam
• January 29 - February 6 in Taiwan
• February 1 - February 3 in Hong Kong
• February 1 – February 2 in Singapore and Malaysia

This is one of the largest public holidays in the region and millions of people around the world will be enjoying colorful celebrations.
This year, several extraordinary factors will cause a great deal of uncertainty.
Besides the usual pre-holiday rush, there are also Covid-19 restrictions, global supply chain congestion, power curbs, and the Beijing Winter Olympics.
The Chinese power curbs (the electricity rationing), that have recently been introduced in many parts of China to reduce carbon emissions, are also likely to have a significant impact on production in the coming months.
Also, the start of this Lunar New Year is 11 days earlier than 2021.
This means the time to get products shipped in the window between Christmas and Lunar New Year is even shorter compared to 2021.
Disruptions of freight operations will be significant during this time.
Here are some challenges:
• Insufficient staffing levels across all sectors
• Prolonged infrastructure closings
• Trucking shortages
• Shortages of empty containers
• Port & Airport closures
• Customs delays
• Heightened travel restrictions due to Covid-19
• Potential additional quarantine and testing requirements due to Covid-19.

As a result, for the first three weeks of February, communication, shipping, and production delays can be expected.
Space and capacity for both air and ocean shipments are already very tight and will worsen the closer we get to the Lunar New Year.
Freight rates are already at all-time highs, but as demand continues to rise, they can be expected to increase again.