AIR FREIGHT
Air cargo capacity continued to edge back towards 2019 levels at the end of November but strong demand and congestion have continued to push up prices on the transpacific trade lanes.

Figures show that air cargo capacities in the last two weeks of November were 5% lower than the same period in 2019 and up by 2% against the beginning of the month.
This compares to capacity being 9% down year on year six months ago and down by around 20% 12 months ago.

Looking deeper into the figures, airline freighter capacity at the end of November was up by 17% compared with two years ago, wide-body passenger belly capacity was down by 36% and integrator freighter capacity was up by 31%.

Despite capacity slowly edging back to 2019 levels, rates remain higher than two years ago as demand stays strong and congestion on the ground, and ULD shortages have created backlogs.

The rate increases were led by the transpacific trade; the Baltic Exchange Airfreight Index (BAI) shows that prices from Hong Kong to North America last week reached a record $14.30 per kg compared with $12.41 per kg one week earlier.
The Omicron variant is set to keep air cargo capacity tight and as a result air cargo rates will remain at an elevated level: the new variant will restrict network capacity due to safety protocols, episodic infection, and national response.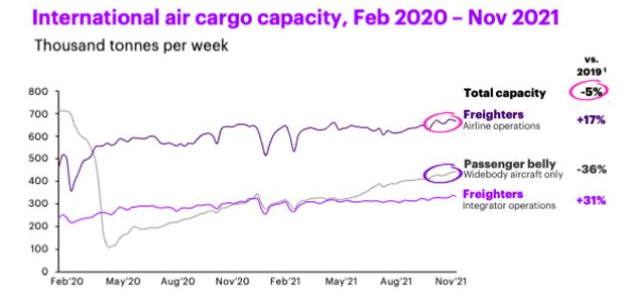 TRUCKING IN EUROPE
The shortage of truck drivers is becoming a real issue in Europe because of the profession's lack of attractiveness.
Added to an increase in the price of fuel, prices should increase significantly in the coming weeks, which breaks with the dynamics that have been observed for almost 40 years.
According to an expert in the sector: 'The hypothesis that shippers will have to live in road transport what they have experienced in maritime transport for 18 months, namely a lower level of service at a higher cost. Similarly, the USA is lacking about 100 000 truck drivers.

CHINESE NEW YEAR
The Lunar New Year holiday and the beginning of the Year of the Tiger are coming up. The holiday will take place from:
• January 31 - February 6 in mainland China
• January 31 - February 2 in South Korea
• January 31 – February 4 in Vietnam
• January 29 - February 6 in Taiwan
• February 1 - February 3 in Hong Kong
• February 1 – February 2 in Singapore and Malaysia

This is one of the largest public holidays in the region and millions of people around the world will be enjoying colorful celebrations.
This year, several extraordinary factors will cause a great deal of uncertainty.
Besides the usual pre-holiday rush, there are also Covid-19 restrictions, global supply chain congestion, power curbs, and the Beijing Winter Olympics.
The Chinese power curbs (the electricity rationing), that have recently been introduced in many parts of China to reduce carbon emissions, are also likely to have a significant impact on production in the coming months.
Also, the start of this Lunar New Year is 11 days earlier than 2021.
This means the time to get products shipped in the window between Christmas and Lunar New Year is even shorter compared to 2021.
Disruptions of freight operations will be significant during this time.
Here are some challenges:
• Insufficient staffing levels across all sectors
• Prolonged infrastructure closings
• Trucking shortages
• Shortages of empty containers
• Port & Airport closures
• Customs delays
• Heightened travel restrictions due to Covid-19
• Potential additional quarantine and testing requirements due to Covid-19.

As a result, for the first three weeks of February, communication, shipping, and production delays can be expected.
Space and capacity for both air and ocean shipments are already very tight and will worsen the closer we get to the Lunar New Year.
Freight rates are already at all-time highs, but as demand continues to rise, they can be expected to increase again.