Bi-weekly updates on Sea, Air & Truck Freight. Stay up to date.
UPDATE 6/23
AIR FREIGHT
Airfreight rates on major east-west trades continued to increase compared to a year ago in May despite analyst figures showing demand declines over the last few months.
The latest figures from the Baltic Exchange Airfreight Index (BAI) show that average rates from Hong Kong to North America in May increased by 21.7% year on year. From Hong Kong to Europe average rates for May increased by 34.2% year on year which is up 5.7% in April. The increases come as air cargo operations from Asia continue to face disruption.
The Shanghai Covid lockdown continued to impact production levels in May, with airlines responding by removing flights.

Meanwhile, cross-border trucking and freighter operations out of Hong Kong continued to be affected by Covid restrictions.

European operations were also affected by the closure of airspace due to war in Ukraine forcing carriers to implement longer routes while Russian carriers, such as Air Bridge Cargo and Atran, were effectively taken out of the market.

Jet fuel prices have also surged over recent months.
The forecasted surge in demand for US air cargo capacity will be largely driven by a lack of sailings with ocean suppliers, but air cargo forwarders must "learn to be adaptable" in the current climate of already constrained airfreight capacity.

In the USA, West to East coast cargo diversion and increased Trans-Atlantic leisure flights are driving "red hot" demand for airspace – shippers are likely to see higher air freight rates and further capacity shortages in the coming months.



SEA FREIGHT
Congestion in European ports causes a late return of containers to Asia, leading to additional delays and blank sailings. If container traffic out of Asia increases in the coming weeks – either from Shanghai reopening or from peak season volumes – congestion, delays, and rates are expected to increase.
Shanghai is China's leading manufacturing center and the world's largest container port. Their lingering lockdowns and strict COVID restrictions have quadrupled shipping delays between China and the major US and European ports, since late March 2022.

As a result, Chinese and worldwide shippers are experiencing palpable consequences:

Container handling volumes in Shanghai fell by ~25% in April 2022 to 100,00 TEU (20' container equivalent).
Domestic fuel demand in China has dropped by 20%, the biggest drop since the beginning of the pandemic – an additional strain on the economy.
As of May 2022, 20% of global container vessels are stranded outside congested ports, a quarter of those waiting outside Chinese ports.
There is a 2.5x increase in freight costs along the Trans-Pacific route; shipping a single container from China to the U.S. now costs from $15K to $ 20K.
---
UPDATE 6/1
In 2021, the increase in transport prices was mainly driven by the rapid rebound in demand, itself favored by massive stimulus packages. This has created an imbalance in relation to the available supply and therefore a favorable balance of power for the carriers.

The rise in freight rates was also fueled by the impact, albeit partial, of the inflationary pressures, in particular on energy and commodity prices as a result of the V-shaped economic recovery. Central banks hoped that this overheating would gradually be regulated when supply and demand were rebalanced through the improvement in congestion and shortages caused by the Covid-19 pandemic. But the outbreak of war in Ukraine is totally upsetting the outlook.

Oil prices, which had already started to rise in 2021, have risen sharply in recent weeks due to the conflict between Russia and Ukraine. This increase is having a direct impact on freight rates.
SITUATION IN CHINA
Today, June 1st, containment will be lifted in Shanghai, after two months of lockdown. Residents will once again be able to circulate in low-risk areas, and transport, particularly by road and rail, will be facilitated.

At the port, the normalization of activity has already begun. Authorities report productivity at 95% above normal (although probably still much lower, according to less official sources), compared to 35% in April.

SEA FREIGHT
As mentioned above, the port congestion in Shanghai is easing: the average waiting time for container ships has fallen to 34 hours, compared to 66 hours at the height of the confinement.

However, ocean carriers have been executing bank sailings and diverting ships away from the Port of Shanghai and this is expected to create a backlog of containers that will impact capacity as the industry resumes normal activities.
Industry experts estimate that up to 260,000 TEU (Twenty Feet equivalent) of export cargo was not shipped from Shanghai during the past few weeks.
This number is equivalent to around 13 mega ships (20,0000+ TEUs each)

What to expect during the next few weeks?
With the resumption of production announced, port activity should heat up. An early peak season is expected starting in June and the companies have announced a crescendo increase in capacity until the beginning of August.
In Europe and the United States, port congestion could worsen, but global demand, and European demand, in particular, is slowing down.


SEA FREIGHT INDEX EVOLUTION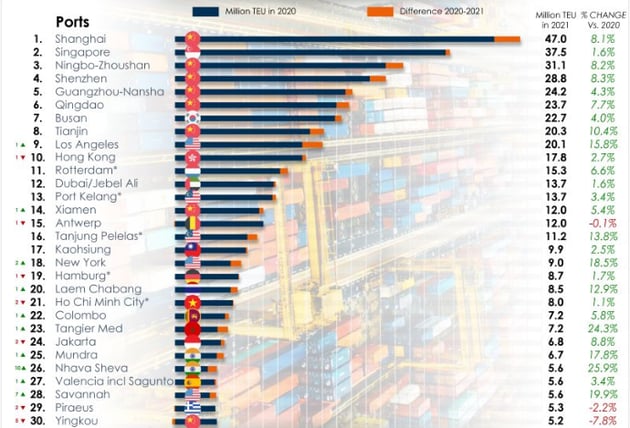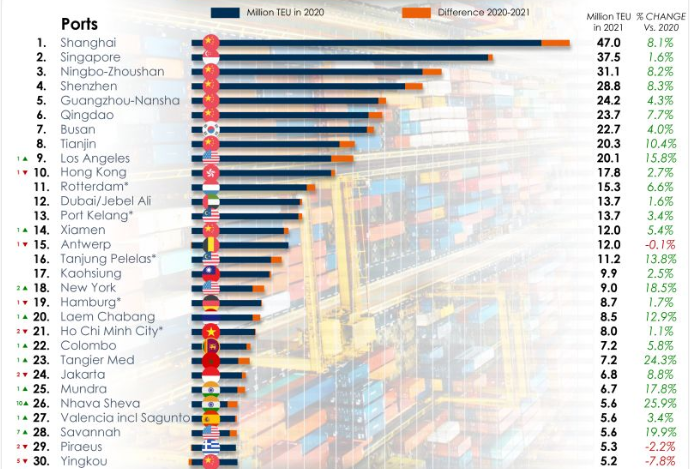 AIR FREIGHT
Rates are stable but capacity is tight. In South China, flight capacity is still not recovered and there is a similar lack of demand as in North China. Trucking is still very limited. The overall market lookout is expected to be slow and soft for the next few weeks.

AIR FREIGHT INDEX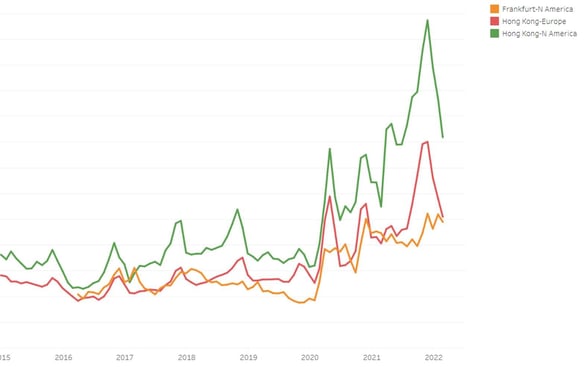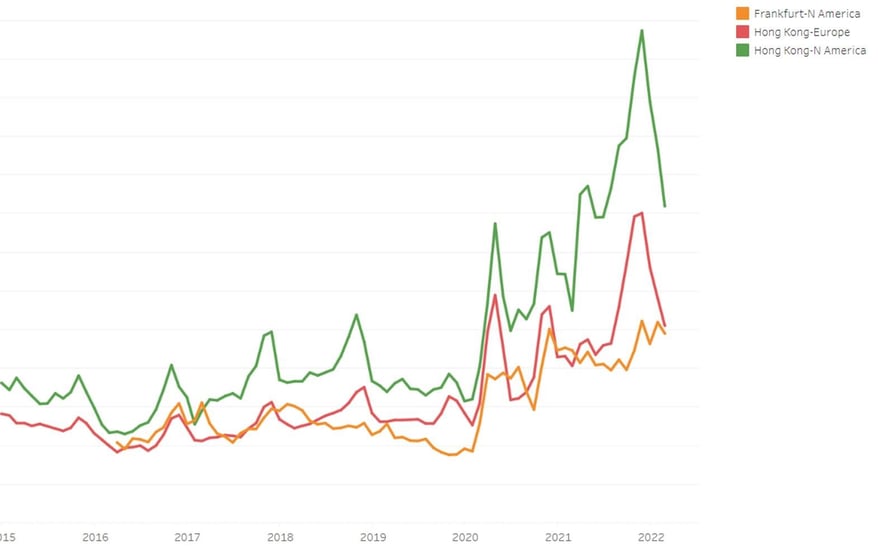 ---
UPDATE 5/16
GLOBAL OVERVIEW
The global supply chain has been living for more than two years in permanent turmoil. The month of April was particularly generous in feverish and violent rises for all the economic indicators, adding up the impacts of the war in Ukraine, the confinements in China, and the superimposition of inflation and shortages. The current geopolitical upheavals are as rapid as they are confusing.
With its 460 million Chinese confined, six weeks of life under glass for the 25 to 26 million Shanghainese and the inhabitants of 46 metropolises, retail sales fell in China in the first quarter of 2022. In just three months, industrial production has slowed considerably as the world's first factory continues to produce in a closed environment with staff confined to the site.
Imports and exports are marking time, disrupted by land transport in limited circulation. Chinese ports have to deal with an imposed slowdown. Global export orders fell to their lowest level since July 2020.
The whole weight on a global supply chain that did not need it.
The particularly strong economic rebound has still not made it possible to clear up the backlog of goods congestion.
After more than two years, during which they have juggled with the attrition of capacities, the lack of space on board, the shortage of containers, the delays of ships, the cancellation of calls, and the congestion of ports... companies still operate with degraded logistics.
The war in Ukraine is exacerbating the rise in energy prices and disruptions to supply chains that have emerged during the pandemic.
These two factors will weigh on the evolution of transport prices and logistics costs in general.
Two years after the outbreak of the pandemic, which generated awareness in Europe of issues concerning strategic independence, Russia's invasion of Ukraine painfully confirms the diagnosis.
In the immediate future, these two major crises will lead to an unprecedented increase in logistics costs, and in particular transport prices. In the longer term, the economic and geopolitical recomposition accelerated by these events will necessarily mean the restructuring of supply chains.

There is no sign of easing all the tensions on the side of transport costs, which concern all means of transportation.
SEA FREIGHT
As of today, port congestions could be around for a while. Covid lockdowns in China have wreaked havoc at Shanghai, the world's biggest container port, and are now causing problems at other major ports around the world.
China is home to seven of the world's top ten container ports, including Shanghai, Ningbo-Zhoushan, Shenzhen, and Hong Kong. In Shanghai — the epicenter of China's current Covid outbreak, the situation remains severe.

Even though some Chinese cities, including Shanghai, have started easing Covid restrictions in recent days, most experts say that the damage has already been done, and global shipping will suffer well into the summer. That could exert even more pressure on global supply chains already reeling from Russia's invasion of Ukraine, and keep inflation running hot.
Shipment delays between China and the major US and European ports have quadrupled since late March when China shut down the city of Shanghai, which has the world's busiest container port.

In the meantime, many truck drivers have struggled to reach ports in China to pick up containers because of travel restrictions and Covid testing requirements.
Shipping giant Maersk warned in an advisory last month that trucking services in Shanghai would be "severely" impacted by these restrictions.
Although authorities have allowed some businesses to restart production, many workers are still stuck in quarantine at home.
Factories that do reopen are facing component shortages and difficulty in securing trucks to carry goods into or out of the port.

The number of vessels waiting at the Port of Shanghai had increased to 384 by April 25, up 27% from a month earlier, according to the most recent data.
Pressure is also building on other Chinese ports, as vessels try to find alternative ports to berth.
Ships have faced growing delays since late March outside Ningbo-Zhoushan port, the world's third largest port, less than a hundred miles from Shanghai

Besides, while China is seeing its exports slow down, the number of blank sailings on the Asia-Europe axis is climbing.
According to experts, alliances should eliminate more than a third of their departures from Asia in the coming weeks.
Unfortunately, delivery times, especially to Northern Europe, could deteriorate a little more: companies will continue to announce blank sailings, "to protect the integrity of the rest of their network", as long as Shanghai does not unlock for good.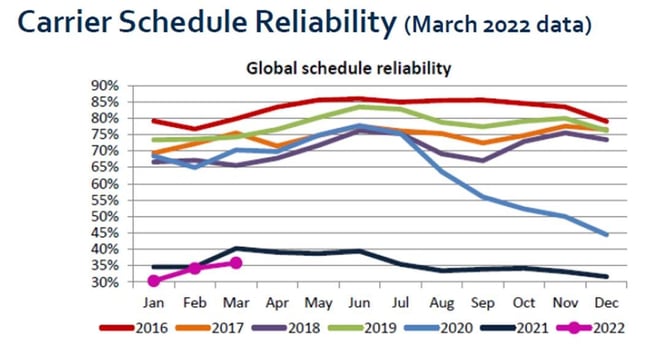 AIR FREIGHT

In the latest Baltic Exchange market round-up, experts pointed out that despite a year-on-year drop in demand over recent months, supply chains remain congested and there could be a surge in production when factories in China re-open following Covid curfews.
With the double Ukraine + Covid shock in China, air freight is hovering in the midst of a paradox: demand is falling but freight rates remain historically high.

A few numbers to remember:
• -5.2% of world demand in March (IATA)
• -8% of global volume in April, compared to April 2021 (CLIVE Data Services)
• +76% passenger traffic in March (IATA)
• +145%, average increase in freight rates since April 2019 (CLIVE)

A drop in prices and rates?
Not immediately and for several reasons: the market still has a capacity deficit compared to 2019 and congestion at airports and trucking weigh too much.
To this must be added the additional costs of the rise in oil prices.
Not to mention that the (probable) future recovery of China will only drive rates up again.

---
UPDATE 5/5
AIR FREIGHT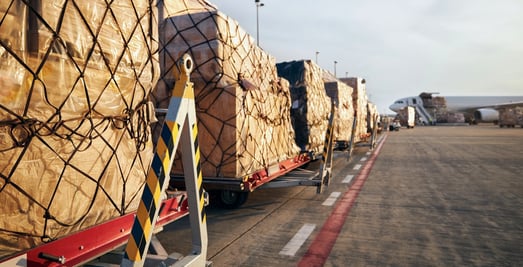 Nobody is expecting the current market conditions to last, mainly because rising inflation is casting a shadow over consumption, which has been the biggest driver of the tidal wave of cargo that has overwhelmed ocean carriers, ports, rail and truck operators as well as the airfreight industry.
Bellyhold capacity has shown a bumpy road to recovery, with the biggest hurdles in the long-haul markets, where it played the most significant role before Covid.
That role is going to be diminished:
Air cargo demand was flat in the first quarter of the year as Russia's invasion of Ukraine and lockdowns in China put the breaks on growth.




Figures from WW experts show that chargeable weight transported by air cargo increased by 2% year on year in January and February but then slipped to a decline of 3% in March.




Lockdowns in China had a big impact resulting in a 13% decline in outbound air cargo and a 23% decline in inbound air cargo business to/from the country.

The air cargo market could see its supply-demand balance return to pre-covid levels in 2025, although that prediction comes with a plethora of caveats: Air Freight cargo capacity is expected to reach 2019 levels in around 2023 but, in the meantime, demand will continue to rise, meaning supply and demand will not come back into balance until around 2025.

The container port congestion is expected to remain, e-commerce demand continues to rise, and supply chains face disruption due to missing parts, all of which will favor air cargo.
Besides, PPE demand has been a "huge part" of air cargo volumes over the last few years but this demand in many markets is also beginning to ease. However, disruption and high prices in ocean shipping might boost the use of airfreight to support supply chains.

The year 2021 was a record year for air cargo with demand up by 7.1% compared with 2019 and so far in 2022, capacity remained around 5% down on 2019 levels.
Therefore, it will be a while before we get back to the equilibrium we saw in pre-Covid times.


SEA FREIGHT
Shanghai has entered its fifth week of confinement. If production in factories resumes, it is very gradual, for lack of components and because of limited road transport (-70% approximately).
The impact will be felt for at least another three months, many manufacturers estimate. According to the Shenzhen Cross-Border E-Commerce Association, which represents 3,000 Chinese exporters, even though this city's lockdown only lasted a week, "many sellers are suffering from a delivery delay of about a month".

Unsurprisingly, port congestion is increasing and the quality of service is dropping sharply in China:
Delays are increasing: they reach 11 to 12 days from Shanghai to Rotterdam or Hamburg and even almost 16 days between Shenzhen and Hamburg




A container now takes 118 days on average between a Chinese shipper's door and a European port exit, twice as much as a year ago




Port congestion is high: last week, 230 ships were waiting off Shanghai and Ningbo. The number of ships waiting for all of China is up 195% compared to February of this year




The 2M alliance (Maersk and MSC) announced blank sailings on the Asia-Northern Europe trade in May. Bookings are predicted to be down 40% on this trade lane.


SUPPLY CHAIN
The top 5 supply chain delays have certainly evolved from when the pandemic first started in 2020. When making comparisons with 2020, one can see how shipping-related delays exacerbated in 2021, while brand-related delays like awaiting payment or production sample approvals significantly improved. With respect to other delay reasons that are outside of the control of the brand, those related to shipments, COVID closures, and raw material shortages have impacted WW supply chains in 2021 and will continue to impact them in 2022.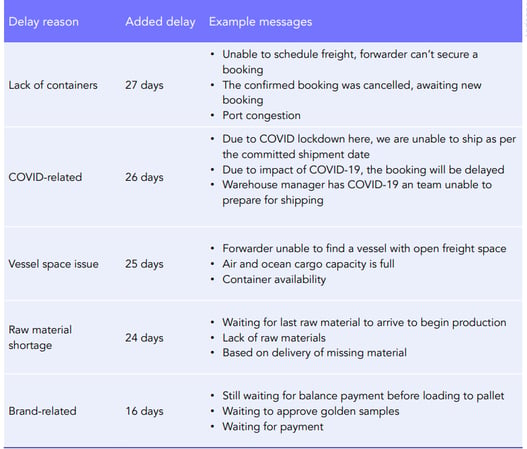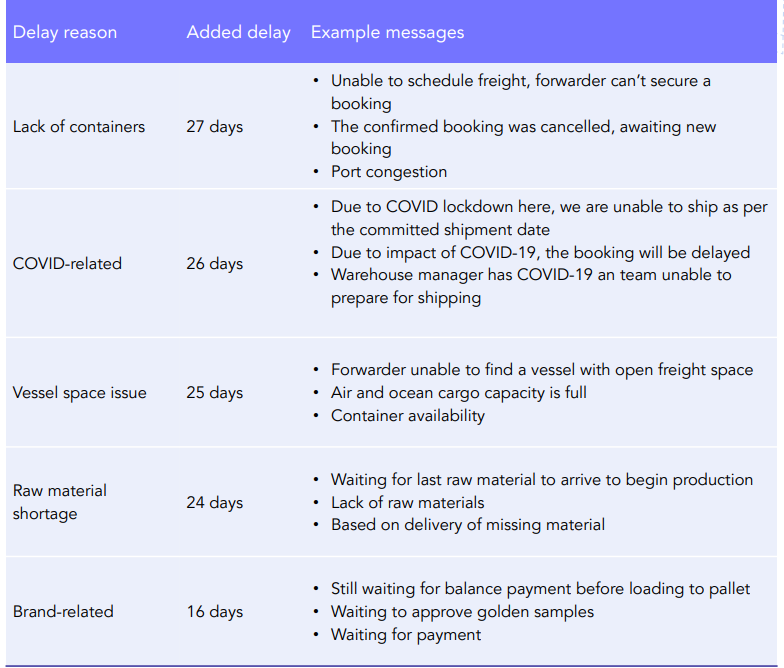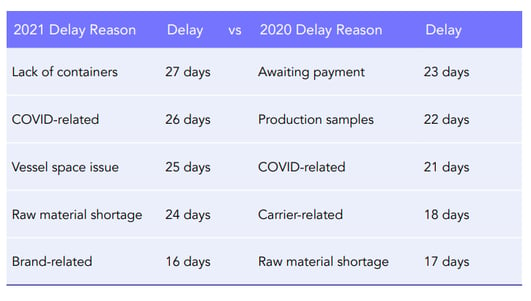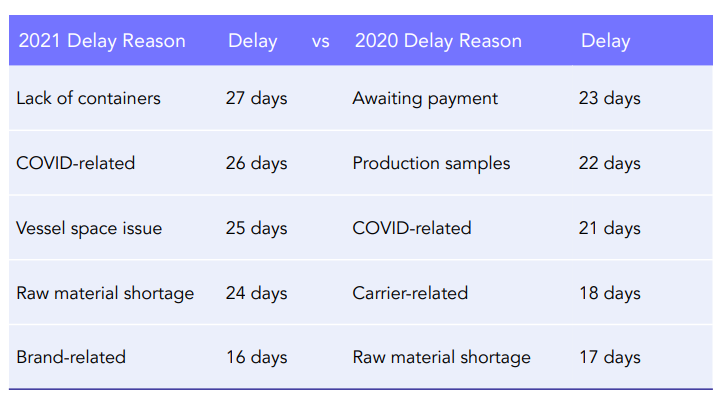 Source: Anvyl
---
UPDATE 4/19
ASIA
China is currently facing the biggest Covid outbreak in two years. The supply chain in areas affected by the pandemic has been strained - Shanghai, the most affected city, is still under confinement. No date for the end of the lockdown has been officially announced. It will be assessed according to the number of positive cases detected during the last Covid-19 screening. Cities near Shanghai, such as Ningbo and Nanjing, are also affected. 191 highway exits in Jiangsu and Zhejiang provinces have been closed since April 10th.
• In Guangzhou, new cases were found in Baiyun district. There is not much impact on the local supply chain.
• In Hong Kong, the situation has improved a lot. However, cross-border trucks are still limited, sea freight remains a reliable solution.
• In Shenzhen, the situation remains unchanged compared to last week.
In the short term, as soon as demand picks up in Shanghai after its lockdown, more difficulties and significant congestion for air and sea freight are to be expected. The shipping companies, in view of the operational problems that are accumulating, are also starting to announce blank sailings from Asia for the coming weeks. There is a high chance of a significant shortage of equipment coming up due to the insufficient number of containers arriving in China during the lockdowns.
• Pick-up and deliveries within the Yangtze River Delta Zone are seriously affected by the control measures which impact trucking services.
• From the morning of 13th April, local time, trucking services in Shanghai, Kunshan, Taicang, and Nantong are suspended following the extended lockdown.
• Trucking services in Wuxi, Suzhou, and Jiaxing encounter some challenges due to strict anti-covid measurements being implemented by the local authorities.
Waiting time at the highway entrances and exits is up to 40 hours.



SEA FREIGHT
In Shanghai, container lines are diverting reefer shipments and some vessel calls as congestion worsens at the port due to the prolonged Covid lockdown in the city. Shanghai entered its third week of lockdown on April 11th. A severe shortage of trucking capacity, as well as warehouses remaining closed, are impacting yard capacity. Many truck drivers are unwilling to drive into Shanghai due to the risk of testing positive and being quarantined for two to three weeks.
The repeated record levels in Shanghai and Guangzhou mean again no end in sight to production and logistics disruptions.
The impact on export volumes out of China will grow larger and more blank sailings in the near future can be expected.

Please find below a chart showing the pricing trend since mid-March and compared to last year's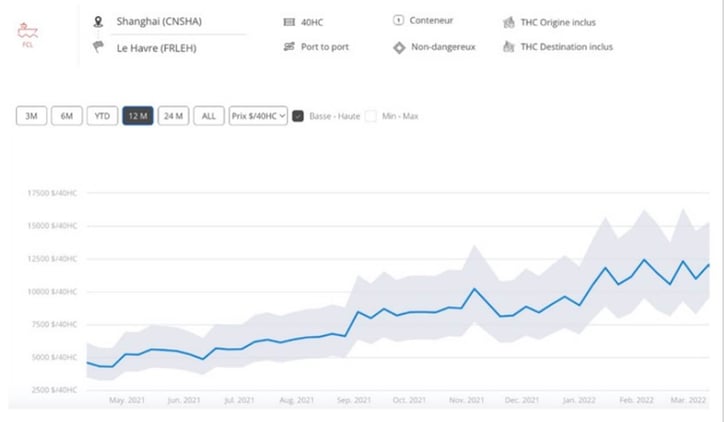 AIR FREIGHT
PVG, HKG, and other main airports in Asia are struggling with a shortage of labor. Multiple carrier announcements on cancelation flights were done, especially into PVG. Rates have been on the uptrend (43% uptrend Asia to EU compared to the previous week). Jet fuel prices are starting to decrease, however, the benefits will not be passed on until the market stabilizes.
Therefore, rate volatility is expected to continue at the same pace.
---
UPDATE 4/1
CHINA
The Covid epidemic continues to progress in China. Manufacturing and cargo transport in Shanghai are expected to halt this week, as China doubles down on its zero-Covid policy and plunges the city into lockdown.

Cross-border HKG from and to SZX/CAN trucking capacity continues to be very limited and terminals are seeing shortages in manpower. For ocean freight shipments over the next few days, most shipments will be re-routed to Ningbo port, especially LCL shipments that need to go through a CFS.


SHANGHAI
Even if the authorities want to preserve international transport, Shanghai was locked down for at least ten days, in two stages: Pudong and areas east of the Huangpu River from March 28 to April 1st, then west of the river for five days from Friday.
Transport to and from the airport and container terminals is severely limited.

Update on the situation:
The port of Shanghai is operating normally, but inland transport, warehouses, and some production sites are slowed down,
Trucking services for Shanghai should be cut by 30%,
Flows are beginning to be redirected, in particular to Ningbo,
Longer delivery times and a probable increase in transport costs are expected,
Containment could be extended beyond April 5th, depending on the evolution of the pandemic,
Port congestion in major Chinese ports reached its highest level in five months last week.
PVG airport is still operating as normal. PVG and most co-loaders recalled part of their staff to stay at the airport. However, the magnetic inspection service will be stopped until April 1st.
AIR FREIGHT
Sanctions imposed on Russian aircraft fleets are further squeezing air cargo capacity in an already constrained market.
Airspace bans on Russian aircraft imposed by the EU, US, and others have added to the existing pressure on airfreight capacity caused by the Covid-19 pandemic and ongoing sea freight congestion.
We have seen an increased interest in airfreight in the wake of previous situations that delayed sea freight services, such as the Suez Canal blockage last year. Additionally, there has already been a marked shift from sea to air due to ongoing sea freight problems as a result of the pandemic-related disruption.
This trend is expected to continue as airfreight continues to become an ever more attractive option for exporters. The good news is that the situation is improving in Shenzhen and Guangzhou, as well as in Hong Kong.
There, the border crossing with Shenzhen returns to normal, although many flights are still canceled.

SEA FREIGHT
The BAF (Bunker Adjustment Factor) increased by 15 to 20% depending on the country, due to the war in Russia and Ukraine. Truckers apply fuel surcharges with weekly validities, which means that the quotes will not always match the amount charged.
Unfavorable EUR/USD exchange rate: 1 EUR = 1.10 USD today / 1 EUR = 1.13 USD on 02/01/2022.
IMO 2023 will have a negative impact on vessel capacities. Today, around 55% of the world's fleet is IMO 2023 compliant. Therefore, either the ships will have to be replaced or shipping companies will have to reduce the speed of their ships.
Both of these options will reduce actual capacity in 2023. New ships ordered will only partially compensate.

USA
There were 39 container ships waiting off the ports of Los Angeles and Long Beach on March 24, the lowest level since September 4, 2021.

GERMANY
The introduction of a diesel surcharge of 15% will start on March 16th for all sea freight shipments and from March 22nd for all airfreight consignments in Germany. The diesel surcharge applies to pre-carriage and on-carriage of all shipments, for import shipments from the above delivery date, and for export shipments from the above pickup date.