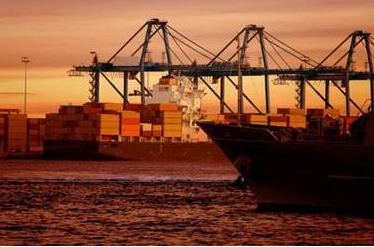 IN A NUTSHELL
The cost difference between air and ocean is now above pre-pandemic levels as ocean rates have rapidly declined.
Before the pandemic, airfreight typically cost around 13 times more than ocean transport.
During the pandemic, the opposite had been true, and the difference was as low as 5.5 times as major congestion in ocean supply chains pushed up container transport prices much faster than airfreight.
The latest figures from consultant Drewry Supply Chain Advisors show that airfreight now costs 16.7 times more than sea freight.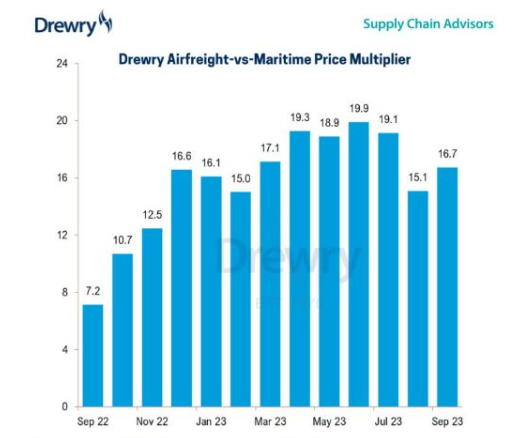 Source: Drewry
AIR FREIGHT
Air freight out of Asia is doing well as export volumes are increasing.
According to World ACD, tonnage jumped by 6% leaving Asia, towards North America or Europe, during the first half of September.
Spot rates, unsurprisingly, follow the same trend and have been increasing continuously since the end of August.
This increasing demand is largely driven by e-commerce for the upcoming holiday season—especially out of China and new technology product launches..
Airfreight rates finally showed signs of improvement in September (see dashboard at end of article) and further increases have been recorded in the first week of October.
The latest figures from the Baltic Exchange Airfreight Index (BAI) show that average rates – spot and contract – paid by forwarders from Hong Kong to Europe and North America increased last month for the second month in a row.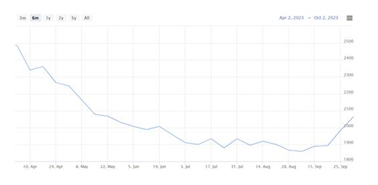 Source: TAC
OCEAN FREIGHT UPDATE
Ocean freight demand on most trade lanes has not meaningfully increased in September.
In parallel, deliveries of new vessels of 1.2 million TEUs entered the global fleet, with less than 80,000 TEUs capacity removal through vessel scrapping.
Another 1.2 million TEUs are expected to be added by the end of the year.
To put this into perspective, the previous single-year record for annual growth was about 1.7 million TEUs in 2015.
Therefore, overall vessel capacity continues to trend higher than demand, keeping rates from long-lasting or significant increases.
As a consequence, sea freight companies will continue voiding sailings and slow steaming: this will allow them to allocate more vessels/capacity per service and save on bunker costs.
But this also feeds a significant lack of stability in schedules and transit times
This lack of stability in schedules and transit times is a challenge that will likely continue for months to come.
Besides, it is important to note that ships carrying everything from consumer goods to food and fuel in and out of the European Union will soon face hefty emissions bills.
The maritime industry will join the bloc's Emissions Trading System — which also covers the European Economic Area — in January, meaning large cargo vessels will start paying for carbon emissions.
Some major freight firms could see costs run into hundreds of millions of dollars.
The incoming system is the world's first large-scale carbon charge for international shipping.
Yet while the additional costs will be significant, the ETS alone isn't likely to force an immediate shift to cleaner marine fuels.
At a carbon price of about €90 ($96) a ton, for instance, it would still be cheaper to use polluting oil-based propellants — and pay for emissions — rather than marine biofuels, according to ship classification society DNV.
And while DNV expects the EU's new system to increase shipping rates, supply and demand in the vessel market are likely to have a bigger impact on these costs.
For a single ship carrying 5,000 standard-sized containers between the EU and Asia over a year, the emissions cost could total about € 810,000 in 2024, assuming a carbon price of € 90 a ton.
A greater share of emissions will have to be covered in subsequent years, meaning costs for the same ship would rise to €1.4 million in 2025 and €2 million in 2026, assuming the carbon price will remain unchanged.
The EU also has separate environmental regulations for shipping lines coming into force in 2025.