An Electronic Manufacturing Services (EMS) partner plays an essential role in bringing your product to market. While they may seem similar to Contract Manufacturers (CM) on the surface, there are key differences between the two that give EMS companies the edge when helping you increase product value.
In this article, we'll share a working definition of EMS, give you an overview of the typical range of services of an EMS company, and highlight key differences between EMS and CM — so that you can find the best partner for your needs.
What does an EMS company do?
A full-service EMS company provides services in the following areas :
Design services create functional specifications, prototype the product, and then validate the prototype. At this stage an EMS company can offer valuable knowledge along with DfX services on electronics and mechanical- and software design, which helps optimize product cost, quality, and time to market. As well as creating and validating your prototype, they handle necessary certification and environmental validation needed for safe and legal introduction to market.
Once your prototype has been validated, your EMS company can develop your product for mass production — entering the industrialization phase. A reputable EMS company process may include mass production tooling for the electronics board; mass production tooling for mechanical parts, test benches for mass production, and complying with necessary certification and environmental validation.
New Product Introduction (NPI)
New Product Introduction involves a number of stages, including product codification, process PCBA, structural and functional tests of the process PCBA, process integration, and a final test phase before mass production. In this phase, your EMS provider will assemble a Customer Focus Team (CFT) to ensure the process is efficient. The CFT comprises members from the Engineering, Purchasing, Logistics and Quality Assurance teams and is headed by a program manager.
In the mass production stage, your product idea is manufactured at scale. Reputable EMS companies will have the best-available equipment for cost-effective PCBA realization, such as SMT, AOI, SPI, ICT, and flying probes. They'll also have quality assurance measures tracking each production step, including fault detection and error manipulation.
Every EMS company should include after sale service as part of their agreement. This makes them responsible for product repairs in case of customer returns. While valuable, this is a dedicated service and not a part of the mass production phase workflow.
Electronic Manufacturing Services vs Contract Manufacturing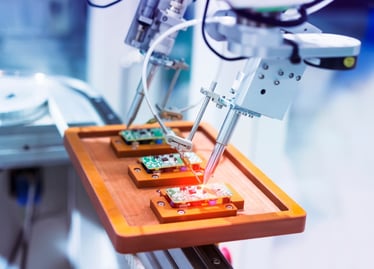 The key difference between an EMS company and Contract Manufacturer (CM) lies in their range of services. While the terms are often conflated, as EMS services are a form of contract manufacturing, EMS companies go one step further.
EMS and CMs both make products for Original Equipment Manufacturers (OEMs); they also assist with a wide range of value-added services. This could include support with design (including Design for Excellence), supply chain management, and outbound logistics.
EMS companies like Asteelflash specialize in a low to medium volume spectrum with highly complex products — which can still translate to a few million units per year. While other EMS companies may choose to focus on higher volumes and less-complex products, all of them should bring a range of cross-industry expertise to their clients.
If you're looking for a partner in developing your concept into a viable product for market — at optimized cost, quality, and time to market — an EMS company is the way to go. They'll help you design, prototype, manufacture, and mass produce with checks and balances along the way that ensure maximum efficiency. If you are at an advanced stage and want to start mass production, discover in our article the 4 questions to ask yourself before you start.
EMS companies with a global footprint are resilient partners in international markets. Contact the Asteelflash team to find out how our 17 fully fitted plants can help optimize your design and production process, or click the button below for a quote that translates those advantages into real terms.