UPDATE 1/6
In 2022, the challenges have been characterized by ongoing disruptions in international supply chains.
Unreliable schedules, congested ports, equipment, and capacity shortages created tension in the ocean freight business and temporary all-time high rates.
During the year, inflation rose sharply in many countries around the world, and due to the situation in Ukraine, energy costs increased as well.
This led to weakened and shifted consumer behavior in parts of Europe.
In 2023, additional ocean freight capacity is expected with the launch of new vessels, whilst the new IMO regulations and carriers' blank sailing programs will have an opposing effect.
AIR FREIGHT
Air cargo association Tiaca is predicting another tough 12 months for air cargo demand, but has also outlined positives for the industry.
In its latest newsletter, the association said that high inflation, high-interest rates, high energy costs, and concern over job security have compounded to create an air of defensive consumer spending, which is in turn affecting the air cargo industry.
However, the association believes that the current situation is temporary and hopes that later in 2023 central banks will start reducing interest rates when inflation is considered to be under control.
In any case, even though capacities have improved throughout 2022, rates for 2023 might still be above pre-Covid levels.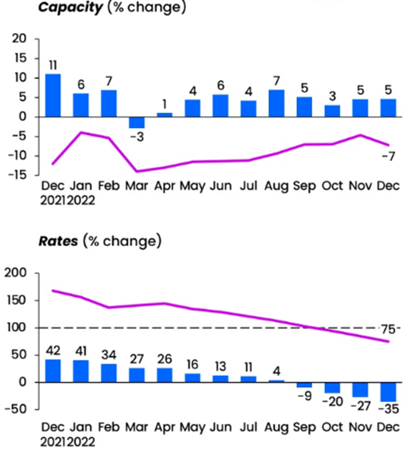 SEA FREIGHT
One certainty at the start of the year: operational fluidity is almost back on major trades but is far from being back to "normal" and to comfortable levels.
The latest punctuality statistics published by Sea-Intelligence only confirm this.
In November, more than 56% of services arrived on time, the highest reliability rate since August 2020.
MSC has the highest scores, according to the analytics firm.
More concretely, the average delay of container ships has fallen to just over 5 days, compared to 7.95 days at the height of the transport crisis, in January 2022 (-37%).
The average over the pre-pandemic period 2018-2019 was 4.05 days.
Even in the United States, the ports on the East Coast are seeing their level of congestion go down, while it is almost nil on the Pacific coast.