When bringing a product to market, the right electronics manufacturing partner can alleviate much of the worry. Working with proven experts can secure the aims of any optimized process: improving product quality, cost and time to market. But what can you expect from their design services? Here's a quick overview of how design fits into EMS and what you can expect when working with your provider.


What are the steps in the design services process ?
A design services process that aims to minimize wastage and failures typically includes:
Specifications stage : This is a feasibility study and involves a review of the requirements, technical specifications and risk analysis.


Development stage : This stage is divided into two processes:

Proof of Concept

An engineering prototype is created. This involves developing schematics and planning with 3D CAD software, through the Design for Excellence method.

Engineering Verification Test (EVT)

This stage involves soft tooling and designing further schematics, refining the 3D plan and producing an EMC pre-certification report.



Industrialization Stage : This stage involves hard tooling and Developer Verification Tests (DVT). These cover tools for plastics production, electronics production equipment, functional test equipment and creating reports for certification and environmental validation.


Production Stage : This is when your product is sent to mass production, after a Product Verification Test (PVT).
How long does a typical design process take?
The average total length of a design process is 12–16 months. It takes 8–10 months to realize the first phase: product specifications, proof of concept and Engineering Verification Test. Then, a further 4–6 months for industrialization.
After that, you're ready for mass production.
What does your EMS provider need from you before work can begin?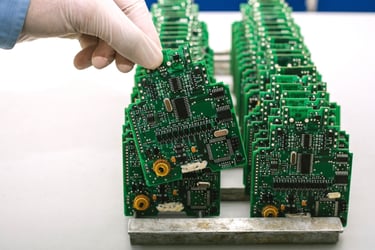 Before you and your EMS provider can start bringing your product to market, they'll work with you to finalize the following:
Functional specifications : This is the document that specifies the functions that your product and each component or system will perform.


Target cost : This approximates the cost of your final product and can help determine its success in the market.
Development plan : This sets out all the stages involved in probing your product, from concept to market.
Why you hire a design services partner for your electronic project?
While costing out plans, you may consider handling the design phase of your product in-house. However, partnering with EMS experts that can facilitate the entire product development journey presents key benefits.
With the right partnership, you optimize the process of bringing your product to market, from start to finish. This is especially the case if your EMS provider is versed in the Design for Excellence method, as it builds efficiency and quality assurance into the process.
With an established EMS company on board, you can work seamlessly from design through to mass production. You'll gain a partner experienced in global markets that can draw from knowledge in multiple industries to ensure that cutting edge, multidisciplinary solutions and technologies inform your product's design and build.
Want to learn more? Contact the Asteelflash team and chat about how their design process can help you reduce cost of manufacture, and improve quality and time to market.